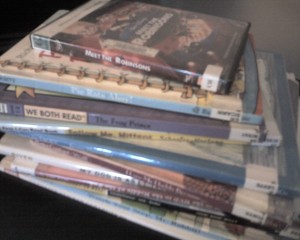 Looking for some affordable (FREE) fun that your kids will enjoy? Check out your local library! Each month the Cincinnati Public Library offers a ton of free activities for families.   This month we're sharing with you some of our favorite picks with regards to their Children's Programs. You can view the complete list of Cincinnati Library Children's Programs here.
Keep in mind they also offer Storytimes throughout the month, you can view that list here: Cincinnati Library Storytimes.
PS. The Cincinnati Public Library is nice enough to email us their program schedules every month, but the other area library systems offer programming too:
Children's Programs at Cincinnati Public Library Branches
Mondays, August 2 & 9
Family Storytimes
Main Library Downtown, 800 Vine St., 369-6900
Summer Storytime: Lots of fun stories for everyone! Children's Learning Center, Mondays 2 & 9, 10:30 a.m., All ages
Tuesday August, 3
Culture & Heritage
West End Branch Library, 805 Ezzard Charles Dr., 369-6026
Go Fly A Kite! Discover the cultural significance kites have throughout the world and create your own peace kite. Tuesday 3, 3:30 p.m., Ages 5-12
Tuesday, August 3
Anime
Bond Hill Branch Library, 1740 Langdon Farm Rd., 369-4445
Tween Anime, Tuesday 3, 5:00-6:00 p.m., Ages 8-12 Sponsored by the Friends of the Public Library.
Tuesday, August 10
Arts & Crafts
Mt. Healthy Branch Library, 7608 Hamilton Ave., 369-4469
Family Craft Night: Back to School Fun: Get ready for school by personalizing your school supplies. Tuesday 10, 6:30p.m., Ages 5-12 Sponsored by the Kersten Fund.
Wednesday, August 11
Bi-Lingual Storytimes
Price Hill Branch Library, 3215 Warsaw Ave., 369-4490
Spanish/English Storytime: Simple vocabulary, stories, songs and crafts. Wednesday 11, 11:00 a.m.-Noon, Ages 3-5.
Tuesday, August 17
Animals & Insects
Mariemont Branch Library, 3810 Pocahontas Ave., 369-4467
Buckeye Search & Rescue Dogs: Learn more about & meet an actual Search & Rescue Dog with Gloria Napier! Buckeye Search & Rescue is an all-volunteer organization of highly trained scenting dogs and their dedicated handlers.  Tuesday 17, 6:30 p.m., All ages
Tuesday, August 17
Cooking & Food
Avondale Branch Library, 3566 Reading Rd., 369-4440
Kid's Cooking: Come to the library and make a yummy healthy snack. Tuesday 17, 3:00-4:00 p.m., Ages 5-12.
Saturday, August 21
Puppets
Anderson Branch Library, 7450 State Rd., 369-6030
A Marionette Variety Show with the Frisch Marionettes. Saturday 21, 2:00-2:30 p.m., Ages 3 & up Sponsored by the Anderson Township Library Association.