Cadillac Ranch for Kids?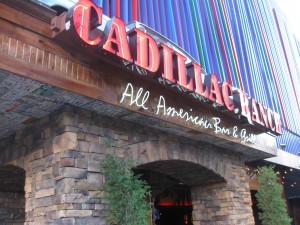 I know you might be thinking, "why is FFC featuring Cadillac Ranch, isn't that a bar for twenty-somethings?" Before the jet-setting party crowd descends on the Cadillac Ranch for some late night fun, you can actually take the family for lunch or dinner.  Recently, I was visiting my parents who live downtown and we were debating on where to go for dinner with the kids.   Since I had a Restaurant.com gift certificate for the Cadillac Ranch I was lobbying for that.  My Mom asked, "really, you want to go to the Cadillac Ranch?"………."uh….yes".  So off we went.  (On  a side note, I always pull up Restaurant.com to see what local restaurant deals they have – lucky for us, the gift certificate I had was good for $25 off a $35 purchase and, even better, I only paid $3 for the gift certificate since I got it when Restaurant.com was having one of their frequent specials).
Accompanied by my Mom, brother, and my girls, we headed for Fountain Square.  Since parking under Fountain Square is $5, we opted to park under the Westin for only $1.  Since the Westin is located right across from Fountain Square it was a no-brainer.  I love saving $$.  Upon entering Cadillac Ranch, we were warmly greeted by the hostess.  Cadillac Ranch is a large restaurant/bar with an open air feeling since part of  one bar extends into the outdoor seating area.  We opted to sit inside and we were seated in a large  booth. My girls loved it since there was plenty of things to look at – they could count all the guitars above them, see the big blue Cadillac jutting out from the wall, and marvel at the riding bull and the ring. There were no bull riders on our visit, although my girls kept asking if they could hop on.
Our server greeted us with a smile while handing out our menus. I was excited when I opened it and saw that they actually offer kids' meals.  Yes, Cadillac Ranch is family-friendly.  For $4.95, kiddos get a choice of chicken tenders, flatbread pizza, hamburgers, pasta and grilled chicken. The meal includes a a drink and a brownie for dessert.  The  only drawback is that the drinks were full-size  and if you have kids, you know how easily little hands can tip these over.  Miraculously for us, we averted any spills (I know complaining about a huge drink is sort of odd).
Our meals took a bit longer than expected but since my kids stayed entertained with all the decor it was okay.  My brother had the Cadillac Burger ($8.95) with shoe-string fires. Mom and I decided to split the Cowboy Bites appetizer (3 mini-burgers topped with onion straws for $9.95) and the Black & Blue Salmon Caesar Salad ($13.95).  My girls gave their meals high marks and the waiter was very sweet when K ordered her pasta with sauce and Parmesan cheese on the side.   S got the chicken tenders and the large tenders were accompanied by shoe-string fries.  My brother was pleased with his burger.  The sliders were okay and would have been better had the buns on the sliders been up to par (you can never beat a really good crusty roll). I liked the crusted salmon that was seasoned perfectly with just the right amount of heat but agreed with my Mom that the amount of salad for $13.95 was a bit underwhelming, which is probably why we polished it off fairly quickly.  The brownie dessert that the girls got with their meals was an added bonus for all of us since they were big enough to share and  we all got our "chocolate fix" for the day. Even with the few minor meal problems, I would definitely return to the Cadillac Ranch with the family.  Any place where my kids finish all their meals, is put on the top of my list. Plus they have some great happy hour drink specials during the week – only $2 for domestic beers and well drinks.
Our adventure continued after leaving the Cadillac Ranch.  Since we had to go through Fountain Square to get to our car, we mingled right in with the large crowd that was happily dancing to some festive latin beats.  Fountain Square has Salsa on the Square on Thursday nights.  It was wonderful to see so many different people enjoying downtown Cincinnati. My girls got right out on the dance floor – no inhibitions there. Eventually, I had to sashay onto the floor with them after their repeated attempts to get me dancing.  I just wish I had some rhythm, but since my girls were having such a good time, I just put this in the category of the things we have to do for our kids and boogied on down.
Cadillac Ranch
41 East Sixth Street Cincinnati, Ohio 45202