This weekend, Metro Parks of Butler County is hosting a really fun boating event – the Crazy Cardboard Regatta.  It'll be held at the Voice of America Park in West Chester, Ohio.  The fun starts on Friday, July 16 from 5-10pm. On Friday you can enjoy live music with the Jump-n-Jive Show Band and Stormy Weather and the boat designers, builders and paddlers will be on hand to show you  their nautical masterpieces and discuss their creations.  All the boats are made out of cardboard.  There will also be hot air balloon rides for only $5/ person if the weather is okay. On Friday,  you can even vote for your favorite boat and the winner of the "People's Choice Award" will be announced on Saturday!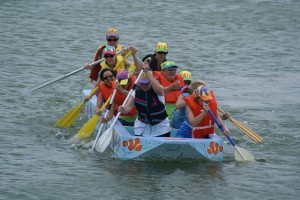 On Saturday, the boat race is on.  The racers will get in their cardboard creations and paddle 200 yards to the VOA finish line.  Opening ceremonies and the race begin at Noon but the VOA opens at 10am if you want to bring some chairs and get a good viewing spot.  Which boat will sink, which one will float?  There will be prizes for fastest boats, Best Team Spirit, Best Overall Design, Most Creative and the Titanic Award for the best sinking!
Here's the schedule of events courtesy of Metro Parks of Butler County:

Friday, July 16
2-4pm: Preregistration and arrival of boats
9am-4pm: Vendors and booth setup
5pm:  Event begins – boats available for viewing
Food and drinks (including adult) available
Voting for People's Choice Award boat
5:30-7:30pm: Jump 'n Jive Band
7:00-9:00pm:  Tethered hot air balloon rides (weather permitting) sponsored by
Houser Asphalt for $5/person.
7:30-9:30:  Stormy Weather Band
9:45:  Voting for People's Choice Awards ends
10pm: Prefestivities end
Saturday, July 17 (in the event of rain, this schedule moves to Sunday, July 18 )
10am: Registration opens and technical inspections of boats
11am: Vendors open
12noon: Opening Ceremony – Racing begins (Class I, II and III)
2ish:  Racing ends & Presentation of Awards
This is a great event for families so I hope you'll head on over.  Even though the event is free, you'll need a valid Metro Parks parking permit to enter the park.  You can purchase this upon entering.  It's only $10 for a yearly pass (transferable to other vehicles) and good at all the Metro Parks of Butler County or you can purchase a day pass for $5.
 Photos courtesy of Metro Parks of Butler County