Continuing our effort to highlight local non-profit organizations that serve children and/or families in Cincinnati, we are excited to introduce you to Summerfair Cincinnati.  One of our favorite local arts organizations (Shannan used to work with them!),  Summerfair has been supporting the arts, artists of all ages and small & mid-sized arts organizations in Cincinnati for more than 40 years.   We invited Summerfair Cincinnati's Executive Director, Sharon Strubbe, to share with us a little about the organization and how it encourages and supports young artists. After checking out this post, we encourage you to head over to their website to learn more. You can also find Summerfair Cincinnati on Facebook, here.
* * * * * * * * * * * * * * * * * * * * *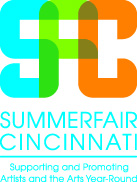 For more than 43 years Summerfair Cincinnati has been supporting and promoting artists and the arts in Greater Cincinnati. Each year we work to encourage and support artists through programs including: 1) support for individual artists including grants, scholarships and exhibitions; 2) community-based art events; and 3) a nationally recognized annual fine artsfair (which is the organization's primary fundraiser).
The effectiveness of Summerfair Cincinnati's activities has earned us regional and national recognition including the Greater Cincinnati Convention & Visitors Bureau Outstanding Service Award, the Southwestern Ohio Art Education Award for Distinguished Organization and the National Association of Independent Artists Artists' Choice Award.
At Summerfair we are dedicated to supporting and nurturing young artists through a variety of events, scholarships and exhibitions. Some of these initiatives include:
Emerging Artists: Each year local college junior and senior level art majors earn the honor of displaying their artwork in our Emerging Artist Exhibition, currently held at the Anderson Center. The Emerging Artist Exhibition features the work of students who are nominated by their professors and then juried in by Summerfair Cincinnati. These students represent the next generation of artists to emerge in the local arts community.
Scholastic Art Awards: The Regional Scholastic Art Awards ceremony/exhibit is held annually in February.  Each year, five "Best of Show" as well as 75 individual category pieces and 36 portfolios are selected from thousands of regional entries to be sent to New York City for the national competition. We provide sole funding for students' entry fees into the competition.
Scholastics Entries Exhibit: Our high school scholarships initiative recognizes the hard work and creativity of local young artists. Since 2008, an annual exhibit of Scholastic Art Awards entries from area 11th and 12th grade art students has been displayed in March, most recently at the Anderson Center.  First, second and third place scholarships are awarded to three students and may be used towards purchasing text books, art supplies or towards tuition for freshman level college art courses or to enroll in select area art classes.  In 2010, we became a sponsor of one Visual Arts scholarship through the Overture Awards.
Overture Awards: In 2010, Summerfair Cincinnati became a sponsor of one Visual Arts scholarship in the Overture Awards program.
Summerfair's Youth Arts Rocks!: Since its development in 1967, Summerfair, our annual arts & crafts fair at Coney Island, has become a nationally recognized event featuring more than 400 visual and performing artists. Among the multitude of activities occurring at the fair, the Youth Arts Rock! area is a special place where youngsters can channel their inner Picasso, Monet, or de Vinci. This area of the fair features hands-on activities for kids including t-shirt design and hand painted flowerpots, as well as jugglers, magicians, face painters and other kid-friendly entertainment.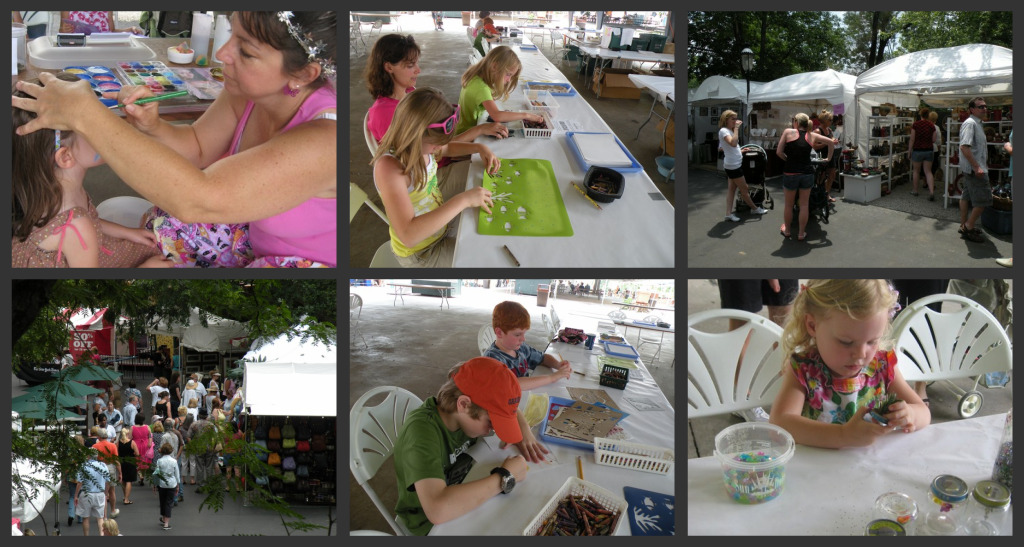 * * * * * * * * * * * * * * * * * * * * *
Sharon Strubbe is the Executive Director of Summerfair Cincinnati.  She has a passion for the arts, rooted in her arts education background.  She has taught K-12 visual art classes in both Florida and Ohio, as well as on the college level at UC/DAAP. She is a graduate of Virginia Polytechnic Institute and State University with a degree in Fine Art (drawing) and a minor in education. She received her Masters in Art Education from the University of Cincinnati (DAAP).