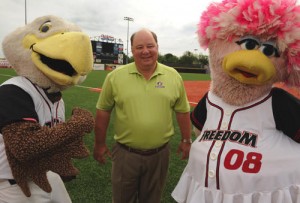 Our family absolutely loves Florence Freedom games.  We've let the summer slip by and already missed the first couple months of action – but we're heading there soon thanks to today's AWESOME GROUPON DEAL!
Freedom games are always friendly to the family budget, but this bargain takes to to the major leagues of affordable.  For only $10 you get a reserve seat, a hot dog, chips, soda, FIVE Freedom Bucks (can be spent like cash in Concessions or Gift Shop) and a Kidz Zone Pass.  That's a $27 value folks – wow!  Multiple tickets can be purchased so your whole crew can go!
Note the tickets have to be used before July 31st, but they have a ton of games in July including THREE home weekends, so you're bound to find a date that works in the next couple weeks.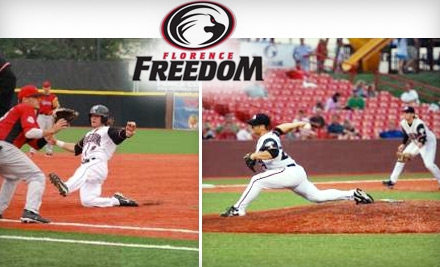 See you at the ballpark! SAAAAA-WING!