One of my family's favorite things to do in the summer is to head down to the Somerset/Burnside, Kentucky area for a relaxing weekend of boating on Lake Cumberland. It's something we do 5-6 weekends a year, and it gives us lots of opportunities to relax and to also make memories together.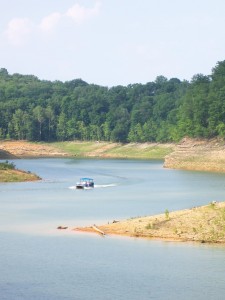 If you've never heard of it, Lake Cumberland is a massive body of water — in fact, it's  more than 63,000 acres. The lake is a boaters (and fisherman's) paradise with water that averages about 90 feet in depth (yes, even with the lowering of the lake water a few years ago).
While there are MANY small towns and cities located along Lake Cumberland, for our family, there is no better location than the Somerset/Burnside area.  Nestled next to each other, the two small towns offer visitors plenty of local amenities and wonderful hospitality.
Where To Stay:
In the Burnside/ Somerset area there are lots of housing options– from camping at General Burnside Island State Park or renting a private town-home from Woodsend Bend to staying in cabins (like we do) or even renting a whole house from Lake Cumberland Resort.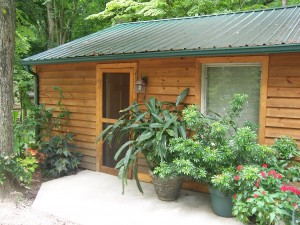 For the past year or so we've stayed at Lost Lodge, a cute cabin community located in Burnside.
Lost Lodge is located in a quaint wooded area and has 1,2 & 3 bedroom cabins. The prices are really reasonable and they include full kitchens so you can cook (and save $$) while you are there. Lost Lodge is also family friendly and has a playground located in the center. If you are a boater like us, you'll LOVE the fact that Lost Lodge also has a boat dock! This is important if you have your own boat as it is NOT fun putting a boat in and out of the water every day.
Boating Resources:
Don't have a boat? No worries, you can rent one for the day, weekend or even for the week.  There are two places I would recommend for boat rental — Burnside Marina or Conely Bottom Marina. Both offer several choices including pontoons, houseboats & even ski boats.  If you do have a boat, and are just looking to moor it, they can help with that as well.
So you've got your boat, what about boating supplies like ski's and tubes? Depending on where you stay in town, I have two favorite stores – Boat-n-stuff (Don't you love the name!) – rents & sells ski's, innertubes & more, and Paul's Discount – sells boating supplies, camping gear, bait, swim suits and just about anything you could want, they have.
Dining Options:
Like most towns, there are plenty of dining options to choose from.  While we primarily cook at the cabin, ocassionally we do like to go out.  Around town a few of our favorites include Ginny's (sort of a greasy spoon diner for breakfast),  the Goodie Shack for ice cream treats, El Taxco for tasty Mexican (and lime margaritas…just $1.99 at happy hour…) and Baxter's for coffee and donuts too!
Entertainment Options:
Looking for something to do after the sun goes down? How about taking in a good old fashioned drive in movie at the Highway 27 Drive – In? With a broad selection of movies each week that includes a kid friendly option (last weekend was Toy Story 3), cost is just $5 for adults & $2 for children. Fun right?
Don't have access to a boat? No worries, you can still stay cool if you head over to SomerSlash, Somerset's MASSIVE water park.  I would compare it to the waterpark at Great Wolf, only it's completely outdoors. Prices run from $12.95 – $14.95 and admission is 1/2 price after 4pm.
Do you enjoy flea markets? Well you are in luck if you do. The Somerset/Burnside area is home to two large flea markets – Shopper's Paradise Flea Market (primarily outdoor) and Lake Cumberland Flea Market (primarily indoor).
Have time for a quick drive? We've visited two attractions that are both great for families.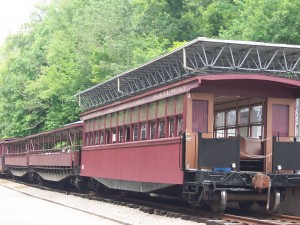 First is Lake Cumberland Falls.  About 27 miles from Burnside, this state park is home to an amazing waterfall and hiking trails. The road to the park is wind-y so you'll want to do this outing early in the day when there is plenty of light. Next is Sterns, KY.  About a 45 minute drive, visitors to Stern learn about the town's lumber mill history and can take a 2-3 hour train ride courtesy of Big South Fork Scenic Railway. The train stops at various lumber mill camps where there are recordings you can play to learn the rich history of the people who worked and lived at the mills years ago.  This is a perfect outing for train & history buffs a like, and perhaps one of my favorite things to do.
So now that I have gone on and on about Lake Cumberland, have you taken your family down for the weekend?  What are your favorite spots or must do activities (aside from floating in the lake all day!)? Be sure to share your thoughts in the comments.
PS. Here are some more photos: