Please note this post is from 2010.
I love the 4th of July – swimming, picnics, friends, family, freedom and FIREWORKS!  The 4th of July falls on a Sunday this year; some communities are celebrating on the 2nd, 3rd and even the 5th. Here's a list of events happening around town the weekend of July 4th.
City of Madeira – Parade – July 2nd
Festival is held at the Madeira Middle School on Miami. Concessions and live music.  Events start on Friday with a 1K Family Fun Run on Miami Avenue at 6:15 pm followed immediately by a parade at 6:30.  Music starts at 8pm and is followed by fireworks at 10pm.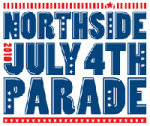 Northside Rock 'n' Roll Carnival – July 2nd & 3rd
On Friday, the Carnival begins at 6pm at the Jacob Hoffner Park (Blue Rock and Hamilton Avenue. There will be food, live entertainment.  Saturday fun starts with a parade at 12pm on Hamilton Ave.  This parade is one of the best in the city and so much fun for everyone – especially the little ones!  Before the parade, do your tastebuds a favor and grab a bite at Take the Cake. Last year they had a pimento cheese and grilled veggie biscuit that I (Amy) still dream about!  After the parade, head back over to Hoffner Park for more live entertainment and great local food vendors.  The Carnival website has complete entertainment schedules and vendor information.
Independence Day Celebration – Independence, Kentucky – July 2nd & 3rd
This party is so great – they have fireworks BOTH nights!  A preview on the 2nd and the real thing on the 3rd!  The annual parade starts at 3pm on July 3rd – rides, music, games and more can be found at Independence Memorial Park.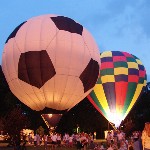 Coney Island – 11th Annual LaRosa's Balloon Glow – July 3rd
Coney Island comes alive at the 11th Annual LaRosa's Balloon Glow! Live music, family entertainment and Coney's Classic Rides make for a fun-filled evening. Later, the evening sky illuminates when as many as 20 hot air balloons of every color "glow" for all to see. The grand finale for the event is a spectacular Rozzi's Famous Fireworks display over the banks of Lake Como beginning at 10pm.
Admission to the event is FREE. Normal rates apply for Sunlite Pool and Coney's Classic Rides.
City of St. Bernard Independence Day Celebration – July 3rd
Great food, games, and rides will all be on hand for this small town festival. Entertainment will be provided by the "One Man Band" followed by local greats "Dangerous Jim and the Slims". Bring your lawn chair and blankets and pick your spot early for the expanded Rozzi Family Fireworks show at 10:00 pm.  All the fun happens at Ross Park in St. Bernard.
Red, White & Blue Ash – July 4th
Probably the biggest July 4th celebration in the area takes place in my home town of Blue Ash.  The Red, White and Blue Ash Celebration is in it's 30+ year.  This is a wonderful fun filled family event with national musical artists. This year, Yes will perform at 6pm and Peter Frampton will perform at 8:05 p.m.
Probably the most important to know about this event this year is the change in location. This is not at the Grooms Rd location but has been moved to a new location across from the Blue Ash Airport on Reed Hartman Highway and Glendale Milford Rd.
I contacted Blue Ash and was given lots of good information about the event. Here's what I found out:
Food will be available – price range will be between $2.00 to $5.00 per item.  You can bring your own food and drink, but coolers ARE NOT permitted at the event.
Beer will be on sale at the event.
There will be temporary restrooms (port-o-lets) placed throughout the event are. BW3 will be open for business and their restrooms will be available for customers.
Red, White and Blue Ash starts at 2pm – what's there to do between 2 and 6 (when the music starts)? They will have  strolling clowns, balloon makers, free games, prize giveaways at various vendor locations, festival rides, music from WARM 98 playing from the main stage from 2pm to 6pm.
Blue Ash will have a raffle for some cool gifts – a girls and boys bike, free gift cards, t-shirts, and various other giveaways.
If you're feeling too hot, stop by one of the FIVE misting stations.
If you want a place to sit down, it's highly recommended you bring your own lawn chairs and/or blankets.
There will be  plenty of free parking around the event site and shuttle bus locations.
The evening will end with a 35 minute (WOW!) Rozzi's Fireworks display.  We have watch these fireworks for the past five years and they are fantastic! The fireworks are sycronized to music which can be heard on WARM98, WGRR- 103.5, 92.5 the fox, 96 rock or frequency 94.1. If you are just coming to Blue Ash to see the fireworks, the best place to see the fireworks will be from the event parking lots.
Be sure to check out the website for update to date information on  food vendors (with prices), shuttle information, event map and additional facts about the celebration.
Fairfield's Red, White and KABOOM! – July 3rd

Red, White and KABOOM offers a variety of music and activities at three city locations: Village Green Park, Harbin Park and the Fairfield Aquatics Center.   All three sites provide the city's best views for the 30-minute Rozzi's fireworks show that begins at 10 p.m. at Harbin Park, the city's highest elevation.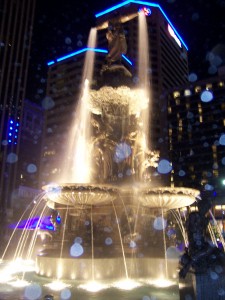 Fountain Square
Just thinking about celebrating the Fourth of July downtown sends shivers down my back. The thought of the glowing lights reflecting off all of the buildings at night.. it's just so magical. Fourth of July on
Fountain Square
is family friendly event filled with lots of FREE fun activities… oh, and some AWESOME fireworks.  Here's the lineup:
11am:  Pride Parade runs along 5th Street, right past Fountain Square.  The parade is part of Cincinnati Equinox, which runs July 2-4 and is produced by the Greater Cincinnati Gay Chamber of Commerce.  Following the parade, is the Equinox Pride Festival on Fountain Square. Fifth Street between Vine and Walnut streets will be closed until 9pm filled with different food selections, retail vendors and information booths.
6-9pm:  Every Sunday on the Square it's Smooth Sunday, part of the PNC Music Series, featuring live jazz and R&B.
9pm:  Traditional 4th of July fireworks begin in the heart of the City with the best view from Fountain Square.
Red, Rhythm and Boom – Mason, OH – July 3rd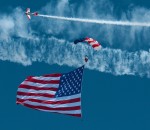 Red, White and Boom will have parachute jumps by Paul McGowan of E-Team Skydivers; Free shuttle service;  Fireworks;  Food;  Kid Zone; Carnival games;  Toddler play area; Inflatables;  Guitar Hero; Circus performances; and Face painting, balloon artists, lazer tag, music and more.  This is at the Corwin M. Nixon Park and runs from 2:30 – 10 pm.
City of Indian Hill – Parade – July 3rd
Parade starts at 9:00 AM from Cincinnati Country Day School and goes along Shawnee Run Road ending at Drake Road Primary School.  Park activities begin right after parade at the Stephan Field with plenty of food and drinks for everyone. A fireworks display will take place at Indian Hill High School at 9:45 pm.
Stricker's Grove – July 4th
This wonderfully family-friendly amusement park (especially for the pint size kiddos out there) is only open to the public four times a year.  Luckily Fourth of July is one of those times!  Admission to the park is free, but you will need to pay for either individual ride tickets or opt for the armband (only $14) which gives you unlimited rides all day long!  The park opens at 2pm; rides start at 3pm and everything closes up at 11pm.  Parking is $5 per car.  The Amy in OHio family has been there for a private function a year or two ago and we loved it!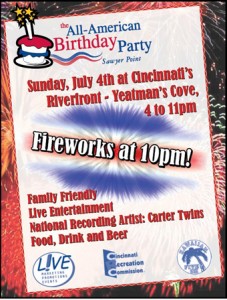 All-American Birthday Party at Sawyer Point – July 4th
Everyone in your crew will have a blast down at Yeatman's Cove with food, drinks, games, and live entertainment from the Carter Twins.  Fun runs 4pm to 11pm – with fireworks at 10pm!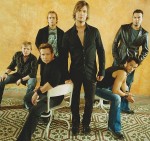 Colerain's 13th Annual 13th Annual 4th of July Spectacular 5K Run/Walk – July 4th

Join the festivities Sunday, July 4th at 8:00 am – find all the details here.   Then stick around for the fun part!  The Colerain Spectacular kicks off later that day from 6pm-10pm with fun for the whole family – including headline entertainment from Emerson Drive!  Hubba Hubba!
City of Montgomery – Parade July 5th
This year's parade will be even bigger with a plethora of floats, vintage cars, military units, and official Town Crier, elected officials, the Syrian Clowns, the Blue Chip Jazz Band, Sycamore High School Marching Band and the Santa Goody Bag Band.  The parade starts at 10am along the parade route  which begins on Cooper  and winds down eastward on Montgomery Road – no need for a compass though, just follow the crowd, you can't miss. 'em!  After the parade wraps up, head over to Montgomery Park for a family-friendly festival from 11 to 2.
We know there is so much more out there – so if you know of a great family-friendly event, please leave word in the comments and we'll add it to our list!
From all of us here at Family Friendly Cincinnati – have a terrific (and SAFE!) Fourth of July everyone!