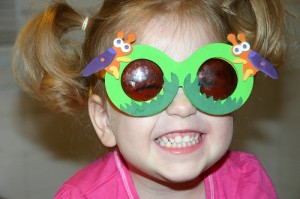 I don't know about your family, but it is hit or miss when it comes to dinner time. P could eat enough for a lumberjack or pick at a piece of bread for an hour.  There is no rhyme or reason to it whatsoever.  Even though kids' meals are reasonably priced for the most part, it still grows irritating to shell out the $4 for a meal she's gonna blow off.  But of course you don't want to be the mom starving your child for all the world to see.  It almost makes you dread going out to eat.

There are a couple places though that are guaranteed eat spots for the P'ster…and one in particular that isn't painful for Doug and I to dine with her.  Bob Evans is a long-standing fav for our whole family – and it has been since I was P's age!
So I'm especially pleased to tell you about their KID'S EAT FREE promo.  Just visit their Facebook page and grab a coupon for a free meal of your little one's choice when you purchase one of their new BOB-B-Q meals.  Try the Memphis Chicken – dude, you'll love it!

And BONUS!  From now until August 18th take advantage of these special deals "Bob Evans Summer of Savings":
Memphis Mondays: 2pc spice-rubbed chicken dinner=$8.99
Texas Tuesdays:Pork Loin Sandwich w/side & drink=$6.99
Wildfire Wednesdays:BBQ ribs dinner=$9.99
Texas Thursdays:Beef Brisket Sandwich w/side & drink=$6.99
Fill Up Fridays:2 City BBQ Combo dinner=$9.99
Sat/Sun BBQ deal: w/ $1 off Sweet Potato Fries
So come hungry and dig in!