Are you looking for a family friendly restaurant to take your family to celebrate a special event?  Or perhaps you are just in the mood for some delicious Chinese cuisine?  I suggest you take your family to one of the three area locations of the family-owned Oriental Wok.  We recently visited Oriental Wok on Buttermilk Pike, and had a wonderful dining experience.  At first glance, you might not think that Oriental Wok would be family friendly.  It's interior is gorgeous, and seems much too fancy of a restaurant to take a large family to eat.  This was my first impression anyway.  But I soon found out I was wrong. Oriental Wok has been a family favorite in this area since 1977.  Families go there to celebrate birthdays, graduations, anniversaries, and many other milestones.  My inlaws used to take their sons there frequently, and also loved getting the carry-out for family dinners at home.  If you go for a special occasion be sure to tell your server.  I hear that much merriment is made for those celebrating at Oriental Wok…our server told us that there is singing involved, and you get to bang the gong!
Children love the atmosphere inside the restaurant, there are koi ponds scattered about, a huge golden Buddha with a gong, and so very many other things for little eyes to look at.  The children's meals are $6 each, but come with huge portions of food, so you get plenty of bang for your buck!  There are several meals for children to choose from (even a couple American meals for the pickier eaters).  My kids love the sweet and sour chicken & rice, and they can share this meal.  There are also kid-friendly drinks: a strawberry smoothie & a Kung Fu cocktail.  Sounds intriguing!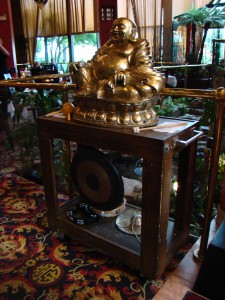 I think that Oriental Wok has delicious food (large portions!), and fabulous service.  My favorite thing is the Pot Stickers – which are all handmade there!  And our server was fantastic, he was very attentive to our needs, and the owner, Mike Wong, even stopped by our table to make sure we were enjoying ourselves.  He even helped us serve the food.  If you still have room after your meal I recommend you try the Lucky Monkey, which consists of a banana, white chocolate, milk chocolate & butterscotch fried in cinnamon sugar shell served with caramel ice cream.  Delicious!
So if you are craving Chinese cuisine, head on over to the Oriental Wok:
317 Buttermilk Pike – Ft. Mitchell, KY 41017 – (859) 331-3000
5038 Old Taylor Mill Rd. – Taylor Mill, KY – (859) 431-3000
2444 Madison Rd. – Hyde Park, OH (513) 871-6888