Save yourself the trip to the mall and get Dad today's Groupon: a Rafting & Camping Trip!
For only $77 you get a day of rafting in Oak Hill, West Virginia (just a five hour drive from Cincy) as well as two nights of camping*.  The deal includes four meals too it looks like – breakfast both mornings, lunch on the river, one dinner and beverages!  The offer is made by River Expeditions.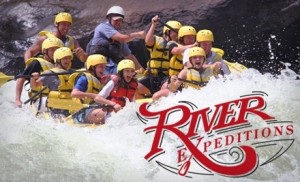 You are allowed to purchase up to 8 Groupons for this deal – imagine taking a family trip with your tweens?  The memories would be amazing.  Or maybe a father/son getaway for some male bonding?  When I think river rafting, I think father/son for some reason…maybe because that would leave me COMPLETELY out of the equation?
Anyway you slice it or plan it, this is a sa-weet deal for the daredevils and those that love them out there!  But act fast – this deal is only available for purchase this weekend.  And please note you have til August 30th to use the Groupon and rafters must be 12 years old and be accompanied by an adult.
*You can bring your own camping gear or rent (for an additional fee) items from the tour company.