An out-of-town friend asked about Cincinnati combo deals for our awesome area family attractions.  At first thought, nothing came to mind but then I remembered something on the Cincinnati Zoo's website when I was clicking around getting dragon information.
There are some pretty terrific deals to take a look at, whether you're visiting for a day or two or even a local.  You need to purchase these through the Zoo's links and there is a specific order page for each bargain.  Just follow the links below!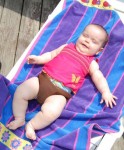 Surfing Safari
You can get day passes to both The Beach Waterpark and The Cincinnati Zoo for one low price – $25.00 per adult; $15.00 per child.  (Normal pricing for admission to the Zoo is $14/adults and $9/children; the Beach is anywhere from $22 to $28 for adults and $9 to $10.50 for kids – so this is a great deal if you plan to hit both spots while you are in town.)
That bathing beauty is my niece and she loves The Beach, as does my sister who writes: "BTW…I LOVE  The Beach…we have been twice since memorial day and I love it!  I think we are going to end up being there at least once a week!   Have you been recently?  The kid area is awesome…but now I love the "Pearl"  area..it is a heated traditional pool.  Lots of areas of shade and sun!  Plus…both times I've eaten lunch there and the prices are extremely reasonable!  I am thoroughly impressed!" And this review was totally unsolicited – she loves that place!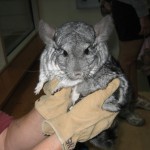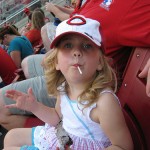 The best of Summer fun: the Zoo & the Reds – and this package is PACKED with value!  You get:
Mezzanine Ticket to Reds Game
Reds Hall of Fame & Museum Pass
Reds Baseball Cap
Cincinnati Zoo Ticket
Cincinnati Zoo Ride Pass
ALL OF THIS FOR $30 PER PERSON!  WOWZA!!  This is a terrific price for all you get.  We're season pass holders for the Zoo, but I was thinking of getting this deal and gifting the Zoo passes to my inlaws to come to the Zoo with us this Summer.  I know, I'm so sweet!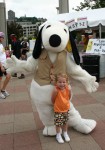 Now this one makes me want to move out of town just to take advantage of this super deal!  And bonus – it is being offered through our great pals at the Warren County Convention and Visitors Center – so you know it's got to be awesome!  Kings Island has known many names over the years, but one thing that never changes: it is THE place for Summer and THE place for FUN in Greater Cincinnati!
Your three-day Ride and Roar Getaway includes:
4 General Admission tickets to Kings Island (yeah PLANET SNOOPY!)
4 General Admission tickets to the Cincinnati Zoo & Botanical Gardens
2 free Bob Evans kids meals
A 2-night stay in either the Comfort Suites Kings Island or the Hyatt Place Cincinnati Northeast with the following amenities:  free breakfast, free Wi-Fi (so you can keep up with FFC while you are here!), indoor pool
ALL FOR ONLY $319 (plus tax)

(If you take advantage of this offer, be sure to check out all our Warren County posts from May for even more suggestions of what to do while you visit to Cincinnati!)
So if you have friends and family coming in to Cincinnati this Summer to visit, be sure to pass this information on to them – terrific deals for some of the finest things in town.