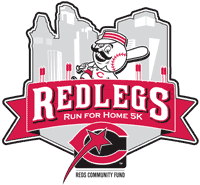 Mark your calendars folks!  The annual Red Legs Run for Home 5k, hosted by The Cincinnati Reds is Saturday, June 5th. Festivities begin at 9am with the 5k Run/Walk. 
In addition to the Run/Walk, there are two races offered for the kids!  A One-Mile Kids run for those 12 and under and my favorite, The Gapper Kids Fun Run for anyone 10 and under.  So spend the morning exercising as a family, meet Rosie and Gapper and Mr. Red Legs, all while having a great time.
The great thing about this event is that you end the race at homeplate – imagine the thrill that would be to your little all-star? And every participant receive a race T-shirt, post-race party on the Fan Zone and one View Level ticket for the June 7 Reds-Giants game. To register, visit one of the locations listed below or register the day of the races.  Warning: there is usually a huge turn out so if you are going to register the day of, make sure you arrive early to give you and your little ones plenty of time to get squared away. 
9 a.m. – Runners and walkers for 5K (round 1) – elite runners
9:10 a.m. – Runners and walkers for 5K (round 2)  ($30)
9:30 a.m. – One Mile Kids Run ($16)
10:15 a.m. – Gapper's Kids Fun Run ($11)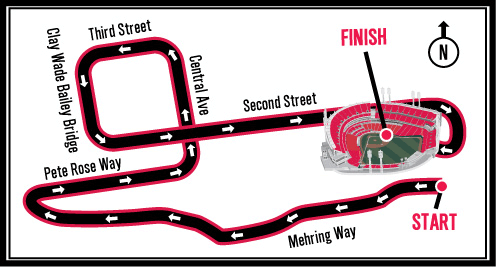 Registration Locations:
Saturday, May 29: 10 a.m. – 4 p.m. Fleet Feet Sports – corner of Kenwood and Cooper roads in Blue Ash (513-793-8383)
Thursday, June 3: 10 a.m. – 2 p.m. and 4 p.m. – 6 p.m. Great American Ball Park – Crosley Terrace, corner of Second Street and Joe Nuxhall Way
Friday, June 4 at Great American Ball Park 12-4 p.m.
Saturday, June 5 (race morning): 7 a.m. Great American Ball Park – Gate 3, Pete Rose Way
Find all the details on the website!