Please note this post is from 2010.
If you've never been to Coney Island, you are missing out on a Cincinnati treasure.  Coney Islands nostalgic amusement park always puts a smile on my face and it really lights up my children.  They love Coney Island and ask every year when we get to visit again.  Since, we live in Mason, we don't make it down there quite as much as we'd like, but we will definitely be heading to Coney Island the weekend of June 4-6 since Summerfair will be taking place.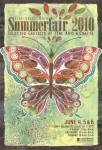 Summerfair is an annual arts festival with over 300 artisans and exhibitors displaying there fabulous work.  But Summerfair has much more going on.  There is entertainment, food, and plenty of kids' activities.  There will be so much to see and do that you may not be able to do it all in one day.  The great thing about Summerfair is that they want families to attend.  They even offer FREE admission to kids ages 12 and under as well as FREE parking. One day admission tickets are only $10 but if you think you'd like to return for a second day, then get the 3-day ticket for only $15. Tickets can be purchased advance online if you want to avoid lines or at Summerfair.
Here's the schedule of youth entertainment so you can plan your day:
Saturday        June 5, 2010
12:00pm           Anderson Steppers and Karla Marshall, Balloon Artist
1:00pm             Country Step Cloggers
2:00pm             Connie Ferguson School of Dance
3:00pm            Brad Eickoff, Magician
Sunday           June 6, 2010
12:00pm           Face painting by Kat
1:00pm             Progressions Dance
2:00pm             Carly Varatta, Puppet Theater
3:00pm            Peraza's Music Workshop YouthViolins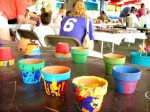 In addition to the great entertainment line up geared towards kids, they also have engaging youth art activities.  Most activities are free and a few have a minimal cost.
Since Summerfair is a nonprofit organization that helps support local arts and artisans throughout the year, they rely on sponsorships to help make their event so successful.  So if you have a chance, please see the list of sponsors.  I am so grateful that these businesses have an appreciation for the arts.