Some people might not think that this tiny little gem of a park is "perfect", but for my train-loving boys the Railroad Depot Park in Erlanger was indeed perfect.  Situated right next to the Erlanger Depot, there isn't much to the playground at this park…just a few swings and a slide.  And a fun wooden train shaped play structure for kids to explore.  What my children loved most though was the Caboose parked behind the depot that children can climb aboard and pretend to drive.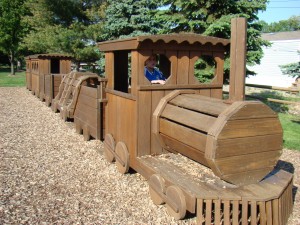 The Depot itself was built in 1877 by the Southern Railway Company, and it is the only remaining wooden depot building still standing between Cincinnati and Chattanooga.  The Depot is the home of the Erlanger Historical Society now, and has a museum inside, but they were closed when we visited.  There is also a small restroom in the park, which is convenient when you have small children!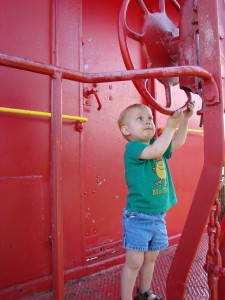 We took a picnic dinner to the park and sat in the picnic area, which was a nice covered area perfect for a family gathering, or an impromptu picnic with the kids.  While we sat and ate our dinner a train pulled up right in front of us, the engineer waving and smiling at all of the children.  Words cannot describe how excited my boys were!    Like I said, this park is small, but perfect for our family.  While we do love big playgrounds to explore, I also like small parks where I can see all of my children at a glance while tending to the baby.  And I think that smaller parks encourage more imagination, exploration, and interaction with other children.  Given my sons' fascination with trains I am sure we will be visiting this park again soon!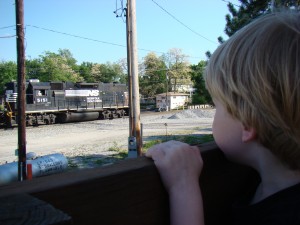 Crescent Avenue – Erlanger, Kentucky