One of my favorite birthday traditions that my husband and I have started with our children revolves around our birthday dinner.  Each year, on our birthday we get to pick our favorite restaurant for a special family dinner, just the six of us.  As you can imagine, the choices are pretty predictable for the kids.  And as for me, I can be quite predictable as well…choosing my "favorite" place to eat.
This year I decided that I needed something new.  I wanted us to branch out and eat somewhere we have never been.  But when choosing a restaurant for our family it can be quite tricky…I have some finicky eaters, allergies to consider & we are not a small family.  So it had to be a family friendly restaurant with food that everyone would enjoy, because I did not want to spend my birthday listening to groans and complaints about the menu.  I wanted a local place & preferably not a chain.  I put a request out on Facebook, and the only replies I got were directing me to a chain restaurant specializing in pasta…and while I love pasta, I have one child who will not eat noodles no matter how I dress them, & when I asked my husband what he thought he said he wasn't really in the mood for pasta.  So I spent literally the entire day trying to pinpoint what it was I was craving and trying to think up somewhere new to try.  Then it came to me….cheeseburger!  I wanted a cheeseburger!  So I called my sister for some recos on a family friendly burger joint.  After talking to her I decided on Zip's Cafe.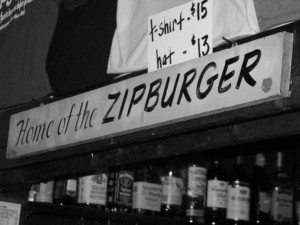 Located in Mount Lookout, Zip's Café was established in 1926. It is not a huge restaurant, just a one room dining area attached to a bar.  The seating is limited, they had less than twenty tables total.  Two of the tables were huge and sat 12 people.  We shared one of these big tables with another family who came in while we were there.  The bar is separated from the dining area by swinging doors.  The server told me that they have lots of families that dine there with children, but it can get rowdy later in the evenings.  She said that there are long lines to get in at night as well.  When we arrived at 5:30 on a Saturday we sat right down, and there was not a wait while we were there.  The service is very quick, and the server also told me that they try to keep the turnover fast so there are not long waits.  But I didn't feel rushed in any way because of this, the staff was wonderful, very attentive to our family, and quick to meet our needs.  The dining area is small, and dimly lit, with a train circling above our heads around a tiny version of Mt. Lookout painted on the wall.  The noise level is perfect for a family of six: our children's laughter and sometimes loud conversations blended right in with the chatter of all the other customers.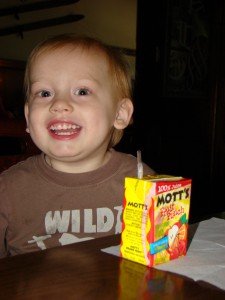 There is no "children's menu" at Zip's, but there were many child-friendly meals (burgers, grilled cheese, mac & cheese, etc.).  The menu includes burgers, sandwiches, salads, soups, sides and a dessert of the day.  Despite the fact that the menu was not very extensive, there were many other things that I wanted to try.  The prices are very reasonable too!  A Zip Burger is $5.00 with cheese (fries are extra).  My picky children ate grilled cheese and fries, but my husband and I both had a Zip Burger.  They were delicious!  The burgers are made from fresh meat from Bleh-Avril & Sons, Inc., are served with lettuce, tomato, mayonnaise, onions & pickle, and come on toasted buns from Klosterman Bakery.  Many people in the Cincinnati area tout the burgers at Zip's Cafe as the "BEST" around (including City Beat & Cincinnati Magazine).  I refuse to enter this debate, because everyone's vision of the ideal burger is different.  But I can say this…three days later I am still thinking about that burger, wishing I had another one on my plate right now.
Zip's Cafe  1036 Delta Avenue  Cincinnati, Ohio 45208