A big HURRAY! to all the runners who put their best foot forward yesterday at the 12th running of the Flying Pig Marathon. We hope you accomplished what you set out to do and aren't too sore today.
One of the best parts of the Pig is the spectator turnout; even on a rainy day, there were crowds of people cheering on the runners. Cincinnati should be proud of putting on such a great race, one that really brings out the best in both the runners and those who show up to support them.
Our family's favorite cheering spot is Mile 16 in Mariemont; the parking is easy to get into and out of, the village is charming, and there's a Starbucks just a quick walk from the race course – a must for us early morning cheerleaders. 😉
We brought punch balloons for the kids to make some noise while we waited for our favorite runner (my bro-in-law) and I yelled until I was hoarse.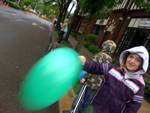 To see more pictures from the Pig, click here and watch the slide show at the official site for the race.
Did you head out to the Flying Pig as a runner or a spectator? Share your thoughts about the race!