This time of year, The Cincinnati Zoo is the epicentre of all things family friendly: Zoo Blooms, as well as Tunes and Blooms in April; Zoo Babies in May; the new manatees…the list goes on and on.  Our family has been to the Zoo every weekend since the weather started warming – even some weekdays here and there!
This week the Zoo celebrates the 40th anniversary of Earth Day in a big way with events starting April 22nd and running thru the 25th.  You can find all the details here, but some highlights: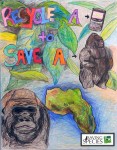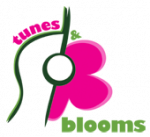 * Bring your old cellphones April 22nd-25th and receive $2 off the price of admission.  And these proceeds benefit my favorite animals in the whole Zoo – the gorillas!  So dig the old phones up and make them good again!
* Tunes & Blooms, The Earth Day Edition – Thursday April 24th 6-8:30.  Admission to the Zoo for the concert is FREE!
* Grand Opening of the Go Green Garden Friday, April 23rd
* Craft projects, conservation talks and much more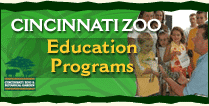 One thing I highly recommend is offered by The Education Center.  They have a special family program – Earth Day 2010.  They'll run two sessions of the program, one at 10am, the other at 1pm.  We have taken P to a bunch of these education programs and they are terrific.  The whole family has fun and the instructors bring in animal guests.  It's a rare treat to get up close and personal with these amazing creatures.  The cost is $7/members and $11/non-members and you need to pre-register for the program by going here or by calling 513-559-7767 option 4!  Doug will be there with P, so say hello!
Whatever you do this week, take some time with your little people to remind them that one of the most important jobs we have is to care for our Mother Earth.  Happy Earth Dayeveryone!