If you've been to MainStrasse Village in Covington lately you may have noticed a tasty new store on 6th street. It's called Candy Bar and it's a child's (and grownups, let's be honest!) dream. The quaint retail space is wall to wall candy!  That's right, Candy Bar is Covington's latest retailer and their focus is on our sweet tooth!
From their web site:
A unique store that brings back the old neighborhood candy shop  you remember as a kid.  When you walk in your eyes will be filled with candy favorites from the 50's, 60's, 70's and just about every other decade. If your favorite candy is still being made we try to stock it in our cases and on our shelves. For young children The Candy Bar is a whole new experience seeing so many candies on display and having someone wait on them as they choose from over 200 different candies.  The neighborhood candy store is back!
Back in October we'd visited Dylan's Candy Bar in NYC, the Candy mega store, and we'd wished there was something like it in Cincinnati. Imagine our delight when we saw Candy Bar! The store really is amazing. You can find just about every type of candy imaginable from clove gum, Atomic Fireballs and Appleheads to Slap Stixs, wax lips and Bun bars.  If you don't see what you want, that's OK too. They've got a dry erase board where you can place your requests!
In addition to their great candy selection they also offer custom candy boxes  by decade (see photo), as well as by theme – teacher, etc.  We purchased several of their Decade Candy boxes ($19.95) and gave them as Christmas presents. My husband also picked up a few custom candy boxes to give his co-workers.
They also do candy buffets and if you are getting ready to host a baby or bridal shower, Candy Bar can create custom candy bar wrappers so that you can personalize your event.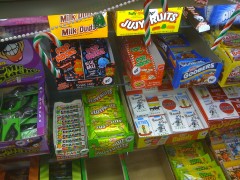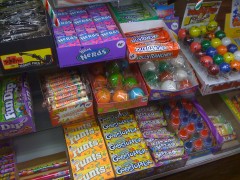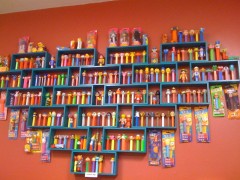 If you or someone you love has a sweet tooth, you'll definitely want to check out Candy Bar in Covington. It's a fun experience for everyone – grownups included!
Candy Bar
422 W 6th Street
Main Strasse Village
Covington, KY 41011
Phone: (859) 261-3367
Web site: www.thecandybar-ky.com
Facebook Fan Page: Candy Bar