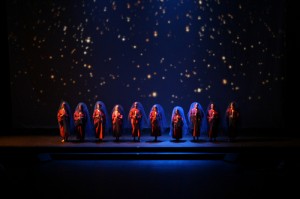 There is still plenty of time to catch an amazing Christmas Show for the entire family.  Awaited is the Christmas Story retold with a contemporary flair that is fun for all ages.  The show and music are fantastic and held the attention of children ages 4, 5 and 7 that were with us.  In fact, my children wanted to go back the next night so we did.   There is a free book available for children to take home and keep them engaged with the story following the show.  CDs of the music are also available (free) in the atrium and also online for download to your mp3 player.
The show is free and you can try and get tickets online.  If you don't get tickets because the show is "sold out" have faith and come anyway.  As with anything, plans change and people don't always turn in free tickets.  The first two shows were sold out and there were plenty of seats available for stand-bys after everyone was seated.  Come early (doors open and hour before the show) because much of the fun is pre-show in the atrium in a Main Street Theme complete with a train display, cookies, hot chocolate, family photos (I recommend going upstairs where you will find two more photographers for less of a line) and of course the standard Crossroads coffee.
You will not be asked for a donation nor will you be offered ANYTHING to purchase, which may not be your typical experience for a church performance and it's true.  This is really a must see performance regardless of your religious affiliation.  Crossroads is a non-denominational Christian Church that welcomes all people regardless of your past or current beliefs.  Just come and enjoy!
Remaining Awaited Performance Schedule
Dec. 19: 4 p.m and 7 p.m.

Dec. 20: 10 a.m. and 1 p.m.

Dec. 21-22: 7 p.m.

Dec. 23: 4 p.m and 7 p.m.

Dec. 24: 10 a.m. and 1 p.m.