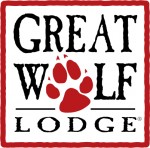 We started a great holiday tradition in our house two years ago when Great Wolf Lodge opened in Mason.There's nothing like going on vacation five minutes from your house.I don't mind paying a bit more for our hotel stay since we are saving money on the travel portion and, more importantly, we are saving time.I don't have to listen to, "When are we going to get there", "I'm bored", "I'm hungry", and "I'm thirsty" over and over again.
Our family really loves GWL. We not only get to stay in a fun cabin themed room complete with a bunk-bed semi-private nook for the kids, but we also get to enjoy their awesome indoor waterpark.When it's chilly outside, it's great to enter the warm pool area and enjoy swimming and lots of fun water slides.My girls are getting bigger and their swimming skills are improving so every year they are able to participate in more water adventures. The indoor water roller coaster is so much fun, K really loves to do the "toilet bowl" tube ride, and both girls love the wave pool.
Now, even if you aren't ready to book a hotel stay, you can still visit GWL and enjoy many of their other amenities (you do have to be a guest to use the waterpark). The public is welcome to eat in any of their restaurants, the kids' can visit Cub Club® where they can play for free and make various crafts for a small fee.They also have a large arcade and if you time it right you can catch their Clocktower Show.During the holiday season, the Clocktower Show is really magical and they have a lot of Christmas themed events and the lobby becomes a winter wonderland called Snowland – there are visits from Mr. & Mrs. Claus, singing, storytelling and at the end of the Clocktower Show, it snows.My girls really love the show and can watch it over and over again.Again, you don't have to be a hotel guest to join in on the fun.
If you haven't made your Thanksgiving Day plans yet and you'd rather have someone else do the cooking for you, GWL is having their Loose Moose Thanksgiving Day Buffet.It's open from Noon-6pm andadults are $23.95, children ages 4-12 are $5.95 and under 3 are free.To make reservations call 513-459-8885  ext. 754.