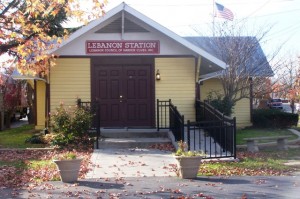 My daughter and I had the pleasure this weekend (thanks to the generosity of my dad for surprising us with the tickets) of enjoying an afternoon together on the LM&M Tea Party Mystery Train.
Even though we've lived in Lebanon for almost three years, my husband and I have yet to take all three kids on an LM&M railroad ride.  This year, we hope to take the whole gang on one of the North Pole Express rides during December.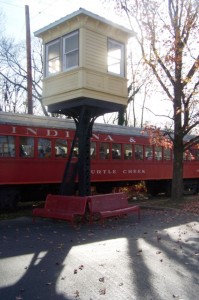 (Wouldn't this watch tower make the best backyard fort?)
The LM&M Railroad is probably best known for their Day out with Thomas rides in September; my boys love it when they spot Thomas the Tank Engine from the windows of  Double Dip (which has the best home made ice cream and a fun game room upstairs).
What I didn't realize – until I clicked over to LM&M's website – was how many different types of themed rides are offered during the year, from April through December.  While most of the offerings are geared toward children, there are some fun events for the grown ups, too, like the Murder Mystery Dinner Train in October and the Civil War Train in late May.  There really is something for everyone.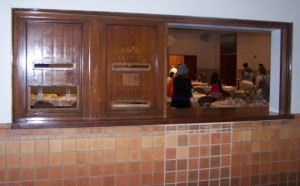 After our train ride on Saturday, we headed across Broadway to the Old Post Office building that sits next to the Warren County Museum. The Warren County Historical Society recently renovated the old Post Office and the space is beautiful – the perfect place to host an afternoon tea party. I loved the contrast of this picture, peering past the old letter drops through the window to the tea party in progress.
To see the dates for the North Pole Express, click here; this is the last event of the 2009 LM&M season.