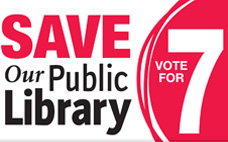 This post is for all you Hamilton County parents out there who are registered to vote. When you vote on Tuesday, Nov. 3 — you are going to vote, aren't you??? — I hope you'll check "yes" next to Issue 7 on your ballot.
This 1 mil operating levy will cost the owner of a $100,000 home $2.50 a month, enabling the Public Library of Cincinnati and Hamilton County to do some  pretty basic things. You know, like keep branches open, keep the collection up-to-date, continue much-needed services to children, teens, and seniors available and meet the growing demand for Library service. In other words, operate as a popular metropolitan library should (at a bare minimum, anyway).
What's in it for you and your kids, you ask? Well, here are my 7 reasons families especially need to support the Public Library of Cincinnati and Hamilton County:
Unlimited supply of FREE books, DVDs and CDs for the whole family. In good times and bad, you really can't beat this deal. Pile up the fun and enjoy it for weeks at a time. Think about how much money you'd have to spend to entertain your kids without the library to borrow from.
Help with homework. Kids in grades 3-12 can work with expert tutors in a "online classroom" on a wide range of subjects, including: math, science, social studies, and English. There are also tutors are available seven days a week, from 2:00-11:00 p.m.
Free (legal) downloads. Did you know you can download audio books, e-books, maps, posters, music and movies from the library? Yep.
Programs for younger kids. Between the busiest Main Library in the country(!) and 40 branches, the Library offers an unparalleled number and variety of fun, educational programs for our kids. In any given month, you'll find storytimes, arts and crafts, cooking classes, game nights, holiday parties, math and science demonstrations, and so much more. All are free, open to the public, and yours to enjoy — across the county, every day. The Library even created a special Kidspace website geared toward younger kids.
Programs for teens. Your teen can never (legitimately) complain that "there's nothing good to do" with the Library around. The Library designs a whole host of programs just for this age group, including book clubs, teen arts and crafts, author visits, creative writing workshops, video game days, photography contests, and more. And as with the young ones, the Library created a Teenspace website to highlight what it can offer teens.
Programs for moms and dads. Hey, adults like fun stuff, too! We can partake in our own arts and crafts workshops (card making or beading, anyone?), book clubs, career and job search workshops, financial advice, genealogy tips, parenting courses, and more.
Modern conveniences. Card catalogs are ancient history, as we all know. Now I can search for what I want in the Library's vast online catalog, put a hold on it, and have it sent to the branch of my choice for pickup. I get an email when my "order" is ready. I even get emails reminding me when books and DVDs are due back. If I need to pay late fees (who me?), I can take care of them online or at a branch with my credit card. I can also get a personalized weekly update on library news, my account, events and programs at the branches near me, and new additions to the collection. All of these conveniences are very helpful for busy families.
People, the Library is hurting right now. They need our help to maintain all of these wonderful, family-friendly benefits and continue operating as the fantastic library we count on. Please vote yes on Issue 7 on Nov. 3!