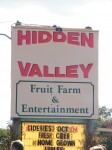 This is my very first post ever to FFC and I thought it would be nice to share a family tradition of ours.  This tradition started when my hubby and I were still dating and continues to this day.  Each fall we load up the family and head out to Hidden Valley Fruit Farm in Lebanon.  It's a great place to experience the country.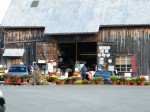 They have a barn store that sells everything from jams and jellies to recipe books and fresh baked goodies.  I wouldn't be true to anything if I didn't mention their ice cream parlor.  Hand dipped ice cream = yumminess!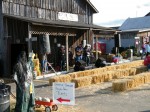 On the weekend we visited they were holding the Apple Cider festival.  Live music, hand crafted items, hayrides, and a children's train ride.  All good times for our family. 
Oh, and food.  Did I mention the food?  Let me fill you in on a Hidden Valley speciality.  The "thriller" apple!  Wow, thriller indeed.  You need a knife and fork for this monster of an apple!  It's a traditional candy apple with some added "thrills".  It's dipped in carmel, then chocolate, rolled in nuts and drizzled with more chocolate.  I know you are picturing it in you mind.  Looks delicious doesn't it?
Another family favorite of ours is the u-pick.  This varies with what's in season but right now is a great time to pick pumpkins and apples!  Our last visit we came home with 1 peck of apples and are still eating them! 
If you haven't been to Hidden Valley in a while go and check it out!  The staff is extremely courteous and helpful in any way!  The farm is located in Warren County, Ohio on the outskirts of Lebanon.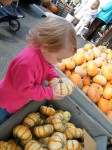 Here is the address and phone number if you want to visit or even book a fun activity for your group or school!
5474 North State Rt 48
Lebanon, Oh 45036
513-932-1869
---