We were lucky enough to receive tickets from Mom Central to the opening night of Disney On Ice in Cincinnati last night. I decided not to tell Abby until before school yesterday because this child will drive you crazy when there is an upcoming event. Her best friend is her cousin, Angel, and so she invited Angel to go to the show with her. My mother-in-law was going to come along, but we decided she would stay with my husband and Ava. Hubby has not been alone with the baby for that long yet, and he was a little nervous about it. So, I was the lone adult in this adventure with the kids.
We were invited to a meet and greet before the show. The girls felt so special because there were big gift bags waiting on them when we arrived. They had a great time looking at all their goodies. We also had a special visit from Mickey and Minnie.  I loved the look on Abby's face when they arrived. When it was time for her to meet them, though, she got a little nervous. She also wanted to know why they weren't talking. That was a little hard to explain.
We had great seats for the show. We got to see a lot of the characters from several of the most popular Disney movies. Of course, Abby was mostly excited to see the princesses. I have to admit, I got pretty excited when Cinderella made her appearance.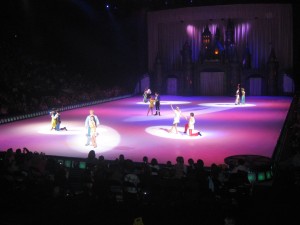 The toy soldiers from Toy Story were very cool.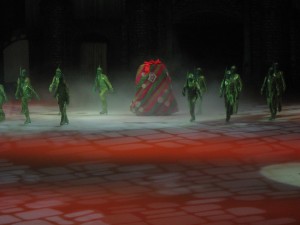 Lion King was also a popular part of the show.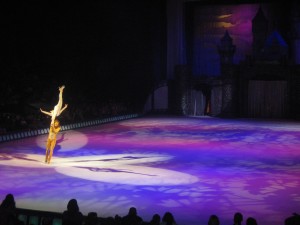 Overall, it was a great time that the kids really enjoyed. I would recommend bringing a jacket, because it's a little chilly.
You also can go to the show in Cincinnati for a discount. You can purchase a 4 pack of tickets to a weekday show for $44 or $4 off weekend tickets by entering the code MOM in the promotion code box at Ticketmaster. The show is running through September 27th. Have fun and take lots of pictures!