If you have never experienced the magic of the Highfield Discovery Garden, I highly recommend you do, especially if you have young children.The Discovery Garden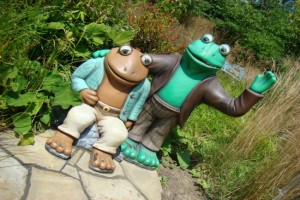 is located at the Glenwood Gardens (13097 Springfield Pike in Cincinnati) and is part of the Hamilton County Park District.I have never explored the walking trails at Glenwood Gardens, but I have heard they are beautiful.When we go to the Gardens, the children make a beeline for the Discovery Garden.
I don't know that I can adequately describe to you the wonders your children will find at the Highfield Discovery Garden, so hopefully my pictures will help you see the magic.There are numerous places to explore in this park..there is the Trolley Garden, where model trains zoom all around you, or the Fairy Gardens, where if you look closely you can see tiny creatures going about their business in their kingdom.One of my children's favorite spots is Frog & Toad's pond, where you can spy fish, salamanders, dragonflies, and possibly even frogs!One of the most popular things at this park is the Discovery Tree, which is a huge tree house just perfect for exploring & learning.That's right…learning!The great thing about the Highfield Discovery Garden is that it is an educational experience as well!Children can explore the tree house and see who lives there, or play a matching game outside of the tree house, or visit the Garden Workshop for the day's seasonal program.Last fall we went and learned all about trees and seeds.
I could literally go on and on and on about this park, and still not tell you everything there is to see there.I think you need to go and explore it for yourself!The park is geared towards ages 3-8, but my two-year-old went and had a blast.You do have to pay admission (rates vary according to season), and have a Hamilton County Parks Parking Pass, but we bought a family pass to the park for $34 and it will last us a year.The only drawback for our family is that this park is not very close to us, we live in Northern Kentucky and it is a 20-25 minute drive.But sometimes the long drive comes in handy, when all three kids fall asleep on the way home!When we visit this park I try to combine it with other things we need to do in that area, or turn it into a visit with Daddy, who works nearby, and that makes me feel better about the long drive.
Pictures from one of our trips to the Highfield Discovery Garden: