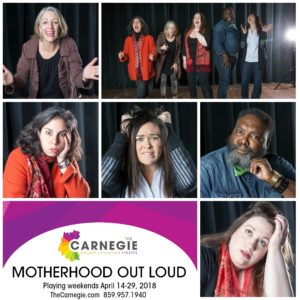 Motherhood is a rewarding journey with ups, downs, humor, and touching moments along the way. The Carnegie is closing out the 2017-18 season with MOTHERHOOD OUT LOUD, an insightful and funny take on motherhood of all forms, running weekends April 14-29, 2018.
Written by an impressive roster of contemporary American playwrights including Pulitzer Prize winner Beth Henley (CRIMES OF THE HEART, MISS FIRECRACKER) and Cincinnati-area native Theresa Rebeck (BAD DATES, NBC's television show, SMASH), the show tells the familiar stories of parenthood with plenty of laughter and tears. With stories from moms, stepmoms, mothers-in-law, and dads who act as moms, MOTHERHOOD OUT LOUD shatters the traditional notions about parenthood and celebrates the truths that unite generations.
"The first time I read the script I knew it would be something our audiences would enjoy. I literally laughed so hard I nearly fell out of my office chair," said Maggie Perrino, Theatre Director at The Carnegie. "But now that we've found our cast, the poignant moments really pop too. It is a wonderful celebration of the stories we tell about our children and parents."
Performances of MOTHERHOOD OUT LOUD run weekends April 14-29, 2018, Friday & Saturday evenings at 7:30pm, Sundays at 3:00pm. Tickets are $26, $23 for Carnegie Members and Enjoy the Arts Members, $19 for students. Tickets can be purchased through The Carnegie Box Office, open Tuesday-Friday 12pm-5pm, in person or by phone at (859) 957-1940, or online at www.thecarnegie.com. Patrons seeking group or student tickets should call to make arrangements.