Head to Haines' House of Cards on Saturday, December 16 for a day filled with holiday magic.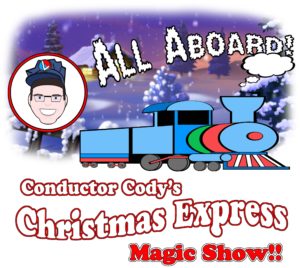 From 4-6pm, join Louisville, Kentucky based magician, Cody Clark as Conductor Cody, on "Conductor Cody's Christmas Express" as he takes you and your family along for a magical ride filled with holiday excitement. Conductor Cody's Christmas Express show will put you in the mind of Polar Express and will leave a lasting impression on your little ones. You can even expect a special guest appearance from Santa Claus himself. This show is intended for all ages. Tickets are $5 in advance, $10 at the door.
Also, stick around after from 7pm-9pm as Haines' also hosts "Believe in the Magic of Christmas," a holiday-themed benefit show featuring the magic of several local magicians. Finish your Saturday night off right, with another holiday-themed show for the entire family. Prepare to be amazed by the sights and sounds of card magic, mentalism, and much more. $5-10 suggested donation. Proceeds benefit 11-year-old Lucas Smith, who was recently diagnosed with Lymphoma.
Haines' House of Cards is located at 2514 Leslie Avenue, Norwood, OH 45212.
For more information on Haines' House of cards or both shows, call (513)531-6548 or visit www.haineshouseof.cards
For more information on Conductor Cody, visit www.conductorcody.com