The holidays are a great reason to get out and make some family memories before the season slips away. The World of Bricks: The Art of Jonathan Lopes is a must-see event at Newport on the Levee and is located inside a storefront across the Riverwalk plaza from Brother's restaurant. Early reviews are calling it "inspirational" and "perfect holiday fun." But plan ahead and get there fast because this event is only open until December 29.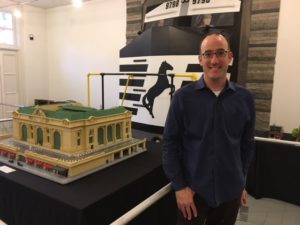 The Artist Jonathan Lopes
As the up and coming brick artist, Lopes' work has been featured at all BrickUniverse Conventions reaching over 100,000 people and displaying upward of 30 pieces at each event. Additionally, Lopes' work has been on display in museums, galleries, exhibits and events in numerous cities around the country.
Selections of Lopes' work are permanently placed at The Morris Museum and other installations. Of his best known works, "Vanishing Brooklyn" and a 12-foot long replica of New York City's Manhattan Bridge are included in the World of Bricks exhibit at Newport on the Levee.
Visiting The World of Bricks
The first thing that strikes you as you enter the exhibit is that this exhibit is not just for kids but for fans of urban landscapes, design, architecture and art. As a former New Yorker and now San Diego artist, his work is inspired by the gritty urban landscapes he sees around him.
Also notably, his work is inspired by his relationships. Particularly his wife, who is the children's book author Marcie Colleen of the Super Happy Party Bears series. Look for the life-sized sculpture of one of her characters.
From December 1 through 29, guests can visit the exhibit and view art made completely from LEGO bricks including Vanishing Brooklyn. Exhibit categories include the Architecture of America, Storytime, Interpretive Art and an interactive building area (featuring a brick pit, race ramps and buildable cityscapes).
Also, the collection is especially relevant to all ages today with our regional resurgence of urban areas such as OTR and downtown. The LEGO artworks have a distinct urban vibe which will be of interest to design pros, urban fans, architects, preservationists and trend setters in addition to children including "Vanishing Brooklyn."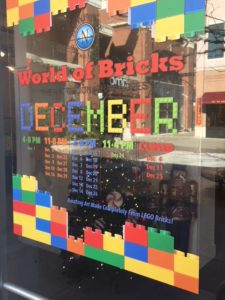 On the topic of "Vanishing Brooklyn" the artist shared, "I like to keep the thought and ideal of historic preservation in our current dialog. I do believe there is room for buildings of all styles, eras and types – and not at the expense of one another. In my travels, I am pleased to see that many cities have now embraced the concept of maintaining older buildings while updating the inner and upper structures with modern style and efficiencies."
TIP: For parents visiting with kids, may we suggest stopping by Cosmic Coffee in the Gallery Building or the Starbucks in Barnes & Noble to grab your favorite beverage before entering the exhibit. The play area will occupy the kids and provide the perfect time to relax with a cup of java.
Make a Full Day of Family Fun
With numerous family friendly restaurants, it's easy to make a memorable day out. After touring the exhibit, grab dinner at one of our restaurants such as Brother's across the way or Dewey's on the second floor of the gallery.
If your family particularly still has energy to burn, Axis Alley offers bites and bowling or GameWorks has affordable packages that include game time.
Most of all, this is a great time to stroll the levee and see the lights. From the plaza, it's easy to get to the paths or walk the Purple People Bridge to make a day of it. And hopefully get some of that energy out!
World of Brick Tickets for children 2 and up are $8 per person and specials will be available on Groupon! Check the Facebook World of Bricks event page for hours.
ABOUT NEWPORT ON THE LEVEE
Newport on the Levee (newportonthelevee.com) sits on the banks of the Ohio River in Newport, Kentucky. The number one dining and entertainment destination in the greater Cincinnati market attracts more than 3.5 million visitors each year. The nationally recognized Newport Aquarium, an AMC Cineplex, GameWorks, and a host of other entertainment and dining options give families many choices to enjoy their visit to this regional attraction.