On Sunday, November 19th, 2017 at 2pm, author Kristi Wientge will be at blue manatee children's bookstore in Oakley to discuss and sign her debut novel for ages 8-12, Karma Khullar's Mustache.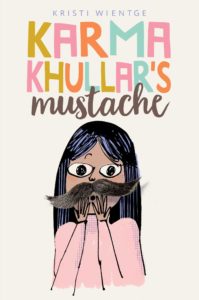 Kristi Wientge grew up in Lebanon, Ohio. After attending university in Indiana where she became a Special Education teacher, she lived in China and England teaching her students everything from English to how to flip their eyelids inside out. Currently, she calls Singapore home, but enjoys returning to Ohio as often as she can to get her fill of Graeter's ice cream and Montgomery Inn barbeque sauce.
Ms. Wientge will be in the Cincinnati area during the holiday season, and is available to speak to members of the press about Karma Khullar's Mustache upon arrangement with her publicist at Simon and Schuster, Aubrey Churchward. Aubrey can be reached at [email protected] 
Karma Khullar's Mustache tackles the uncomfortable—but all too relatable—subject of female body hair and self-esteem with this sweet and charming novel in the tradition of Judy Blume.
Karma Khullar is about to start middle school, and she is super nervous. Not just because it seems like her best friend has found a newer, blonder best friend. Or the fact that her home life is shaken up by the death of her dadima. Or even that her dad is the new stay-at-home parent, leading her mother to spend most of her time at work. But because she's realized that she has seventeen hairs that have formed a mustache on her upper lip. With everyone around her focused on other things, Karma is left to figure out what to make of her terrifyingly hairy surprise all on her own.
A selection of reviews for Karma Khullar's Mustache:
Debut author Wientge has sensitive, anxious Karma confronting the universal preteen problems of self-esteem, bullying, and changing friendships, with everyday details of her interracial family's Sikh faith and culture seamlessly woven in…Readers will enjoy seeing how Karma navigates the complexities of adolescence, middle school, and the 17 hairs on her upper lip in this realistic and humorous story of new friendships and family support.
-Kirkus
Debut author Wientge neatly captures how it feels to be different, especially as an adolescent . . . The novel's ending—hopeful but not completely happily-ever-after—sends a strong message of self-acceptance and resilience.
-Publishers Weekly
blue manatee children's bookstore is an award-winning independent bookstore located in Oakley. After 28 years on Oakley Square, we moved into our new space at 3094 Madison Road, Cincinnati, Ohio 45209. More information about blue manatee can be found at www.bluemanateebooks.com.