The Cure Starts Now and Graeter's team up once again this September for their annual Cones for the Cure campaign. The campaign will take place September 7-17 at participating Cincinnati Graeter's locations to help spread the word about The Cure Starts Now and its mission to find the homerun cure for cancer by focusing on pediatric brain cancer.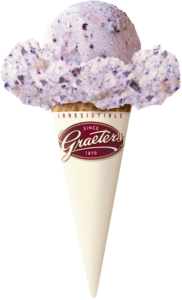 As part of their continued support for The Cure Starts Now, Graeter's will be giving away free scoops of Elena's Blueberry Pie ice cream to customers two times during the campaign period. Elena's Blueberry Pie is a special flavor that was created in honor of 6-year-old Elena Desserich, the inspiration behind The Cure Starts Now.
"In many ways, this is where it started," says Chip Graeter of Graeter's. "Ten years ago we joined the charity with the creation of this special flavor and have been committed to the cause ever since. And this time we want to do even more."

During Cones for the Cure, guests that visit a Graeter's store during the campaign period have the opportunity to donate a $1 or $5 "Cone for the Cure." Graeter's will also offer a $20 savings booklet for every donation of $5 or more to The Cure Starts Now.
The element of surprise is what makes this such a great campaign as the two free ice cream days will randomly be announced with the help of media outlets, bloggers and social media. Be sure to "like" the Cones for the Cure Facebook page at www.facebook.com/conesforthecure for the latest news about the campaign.
In 2016, over 50,000 people participated in the campaign which generated over $136,000 for The Cure Starts Now. To date, over $459,000 has been raised through the campaign to fund homerun cure research. Since 2007, The Cure Starts Now has funded over $7.3 million in groundbreaking research. To learn more about Cones for the Cure or The Cure Starts Now, please visit the website at www.conesforthecure.org.
"It may be the very best way to make a difference while treating yourself to the best ice cream around," says Graeter.