Bellevue's most art-filled day is almost here! Saturday, September 9, from 10 a.m. to 5 p.m. the Thomas J. Wiethorn Memorial Beach Park (formerly known as the Bellevue Beach Park) will be transformed into a must-attend art event that will touch all your senses. The 16th annual Art in the Park, presented by In Vue and sponsors the City of Bellevue, River City News, The Party Source, Brandicorp, Windmiller Properties, and Proforma, and Buona Vita, is a truly delightful community event that brings together over seventy artists and craftspeople from all over the region.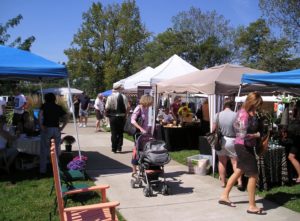 The Art in the Park Silent Auction is now open at Frame and Hang Studio Gallery located at 401 Fairfield Avenue before it moves to the beach park where it will close at the end of Art in the Park. Since we believe all children should have art in their lives, the auction benefits the art programs at the Bellevue schools and is made possible through the generosity of some of the Art in the Park artisans.
Visitors can indulge in the art created by artists and makers, live music by local musicians, belly dance performances, kids' art activities, food from local independent establishments, craft beer, a "peep" photo board, and new this year a stage just for kids with storytelling, comedy, music, and belly dancing. Make it an entire day by taking in the independent businesses along historic Fairfield Avenue and stay for the City of Bellevue's Concert in the Park, Forever Diamond, from 7 p.m. to 10 p.m.
Two independent judges will evaluate the work of each artist, and $645 in cash prizes is awarded for outstanding work in both Fine Art and Fine Craft categories. Additionally, attendees vote for the People's Choice Award.
Bellevue knows full well that the Earth without "art" is just "eh."