The Public Library of Cincinnati and Hamilton County wants everyone in the Greater Cincinnati area to have a RED card just like Fiona. And September is the perfect month to become a cardholder if you're not already one.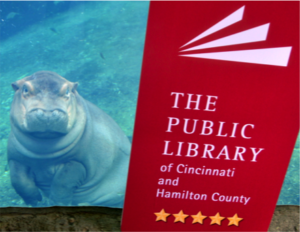 This September marks the 30th anniversary of Library Card Sign-up Month—a time when the American Library Association (ALA) joins public libraries nationwide to highlight the value of a library card. Since 1987, Library Card Sign-up Month has been held each September to mark the beginning of the school year to remind parents and youth that signing up for a library card is the first step towards academic achievement and lifelong learning.
This year, the Library will be giving away prizes to new cardholders. Come into any Library location from Sept. 1–30, get a card, and fill out an entry form for a chance to win tickets to the American Sign Museum, Cincinnati Reds, Cincinnati Zoo or the Underground Railroad Freedom Center. In addition, new cardholders have the chance to win gift cards to Goldstar Chili or Graeters. Our thanks to these organizations for supporting the drive to get a Library card in the hands of every Hamilton County resident.
The Library has several different types of cards, including cards for educators, members of the military, kids and teens. Learn more about how to sign up for a Library card at CincinnatiLibrary.org.