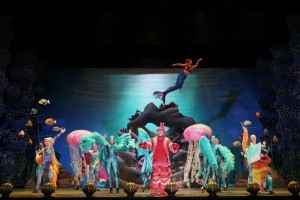 Friday night my family visited The Children's Theatre of Cincinnati to see a performance of Disney's The Little Mermaid.
It was incredible.  My youngest two children and their friend were leaning forward in their seats, eyes glued to the stage, the entire show.  You would think that after seeing The Little Mermaid on screen so many times, they'd be tired of it.  But, the wonderful performance, brilliant colors and engaging songs drew them in and kept them there.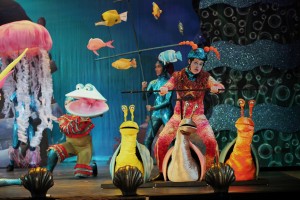 Disney's The Little Mermaid set was fantastic. The puppets provided by The Frisch Marionette Company were beautiful and fun.  They captured the bright colors beneath the water's surface and the fluid movements of ocean waves.  We loved watching the many creatures swim by as Sebastian sang Under the Sea…giant jelly fish, schools of fish, singing flamingos, a blow fish, a seahorse, clams and more.  It was so much fun to see them bring Ariel's world to life.
Every part of Disney's The Little Mermaid set made you feel like you were under the water.  From the swaying of the underwater plant life, to Prince Eric 'floating' to the surface as he was suspended on an invisible harness. It was very cool. There were gasps from the audience as Ariel began swimming around her secret cave full of her human treasures for the first time.  All of the actors had 'swimming' perfected!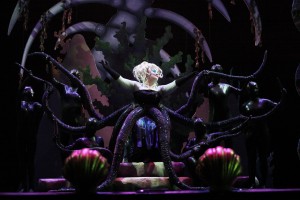 As always, I love a good villain.  Ursula, the Sea Witch, did not disappoint.  My favorite scene was when she was first revealed.  The curtains opened to her dark, creepy under water lair.  Her tentacles waved like evil branches swaying in the water.  It was fantastic. It took my kids a while to realize just how her tentacles moved…that's how good it was!
Each actor did an amazing job, singing with such energy and passion.  They brought their characters to life. My kids were cracking up when Sebastian the crab was running from the chef and when Scuttle the seagull explained to Ariel how to brush her hair with a fork—otherwise known as a dinglehopper!
Our family really enjoyed this show.  And, there is still time for you to see it!  Show times are as follows:
Saturday, October 24 at 2 PM and 5 PM
Sunday, October 25 at 2 PM
The Children's Theatre of Cincinnati Taft Theatre is located at 5th and Sycamore Streets in Downtown Cincinnati. Please call 1-800-745-3000 or go to www.ticketmaster.com to reserve tickets.
Disclaimer:  All opinions are my own.  We LOVED this show.  The Children's Theatre of Cincinnati provided my family with complementary tickets for this review and giveaway.