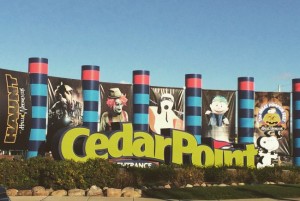 Do you  love Halloween?  Do you love Road Trips?  Do you love Amusement Parks?  If you answered YES to these questions then I highly recommend a trip north to Sandusky, Ohio to visit Cedar Point and celebrate the spooky season during their "HalloWeekends".   You can enjoy their rides while experiencing thrills and chills.  Or if you aren't into the creepy stuff you can go during the daylight hours and skip the spookier evening events.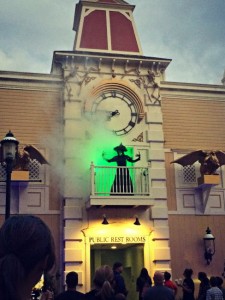 We made our first trip to Cedar Point on their opening weekend of HalloWeekends and we had a blast!  The kids weren't into the Haunted Houses, but they seemed excited about the run ins with zombies and scary clowns on the midways during the evening hours.  We went to Town Hall at 7:45 on Saturday night to watch the Witch call out the spooks and it was a little scary, but my kids loved it.  One by one she called out the different groups of monsters and creepy folks and then they ran through the crowd trying to scare everyone.  It was daylight, so my kids were ok with this level of scare (except for one child and we kept his face hidden).  If your kids don't like the scary stuff just leave before dark, or buy them a no-scare necklace they can wear.  It lights up and indicates to the monsters throughout the park that they are not allowed to scare that person.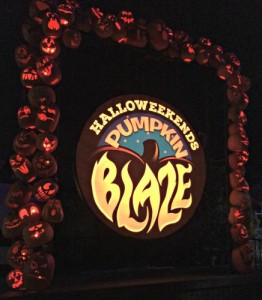 During the day on Saturday and Sunday you can enjoy the not-so-scary Great Pumpkin Fest with the little ones where you can do such fun things as crafts, watch shows and visit with the PEANUTS™ pals.  So there's something for everyone!  The park is a wonderland of Halloween decorations…it's really cool!  There are over 10,000 gourds decorating the park and they've found some really creative ways to decorate with them.
More Information About

HalloWeekends

at Cedar Point ~
The witches are preparing their brew. Over 50,000 pumpkins and cornstalks are placed. Fog is creeping across the midway. That means it's time for Cedar Point's 19th HalloWeekends, the Midwest's biggest and baddest combination of fall family fun by day, and thrills, chills & shrills by night. In 2015, HalloWeekends takes on two distinct personas.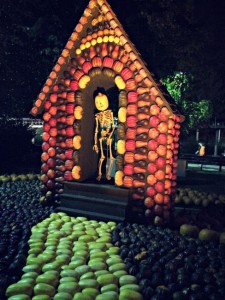 The Great Pumpkin Fest, every Saturday & Sunday from 11 a.m. to 7 p.m., features attractions, crafts, activities and shows geared just for little spooksters and their families hosted by the ever-lovable PEANUTS™ pals.
Kids can enjoy PEANUTS-themed attractions, like Franklin's Tractor Trek, a hay bale course where they can use their pedal power to race each other on miniature tractors; Linus' Mummy Pit, a foam pit that's just like a bubble bath but without the water; Trick-or-Treat with the PEANUTS every day, where kids can meander through Planet Spooky for sweet treats; and The Magical House on Boo Hill, a not-so-haunted house with fun surprises around every corner.
The Great Pumpkin Fest is highlighted by the Monster Midway Invasion Celebration Parade, a Halloween spectacle with friendly monsters, larger-than-life floats, characters of all shapes and sizes, fun music and of course, Snoopy and his PEANUTS pals. The Monster Midway Invasion Celebration Parade steps off on the Main Midway and Wicked Twister Midway Saturdays & Sundays at 5 p.m., weather permitting.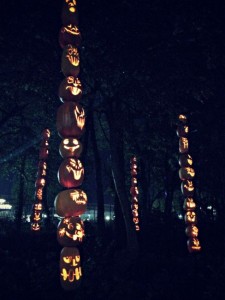 Plus, there's Count Snooptacula's Kids' Costume Contest, spectacular live shows, Charlie Brown's crafts and pumpkin-inspired landscapes throughout the park that make for the best family getaway during the season of sweater weather.
But when the sun goes down, evil rises at HAUNT, Friday & Saturday nights. Monsters and the undead take to the midways to bring guests a truly terrifying trip into the darkness. New at HAUNT, guests have to navigate through the slotted walls of the Slaughter House indoor maze without becoming the next catch! Slaughter House is located on the Frontier Trail. In total, HAUNT is home to six indoor haunted houses, including Hexed, Zombie High School, G.A. Boeckling's Eerie Estate, Eternity Infirmary, Eden Musee and the new Slaughter House.
HAUNT's six outdoor fright zones are just as intense. New this year, Fear-y Tales welcomes guests into a disturbing, twisted storybook where demented fairy tale characters are determined to make sure happily ever after doesn't happen! Fear-y Tales is located near the Gemini Midway. Returning to the haunted walk-through lineup are Blood on the Bayou, CornStalkers, Cut Throat Cove, Maniacal Mechanical Screamworks and Tombstone Terror-tory. All outdoor fright zones are clearly marked, but guests who don't wish to be scared can purchase a "No Boo" necklace, guaranteed to keep the monsters away.
HalloWeekends has great experiences for everyone, though, including the new HalloWeekends Pumpkin Blaze, located along the Top Thrill Dragster Midway. It's a massive display of more than 1,000 pumpkins, all hand-carved and most lit from the inside. By day, it's truly a sight to behold. By night, it takes on a completely mesmerizing look and feel.
A simple meal takes on a whole new twist at HalloWeekends. Sit in the main dining room at Boeckling's Banquet, a fine dining experience served inside G.A. Boeckling's Eerie Estate. Menu items like lobster, steak and filet mignon are featured. Space is limited and reservations are required. And if that's a little too creepy, the Night of the Living Fed all-you-can-eat meal allows guests to step off the midway into the new Lakeside Pavilion for a Halloween-themed feast. Harvest chopped salad, fried fowl, baked brains & cheese, spaghetti and eye balls and apple fritters are just a few of the delicious treats on the menu. Night of the Living Fed is available on Saturdays from 5-7 p.m. and guests can enjoy special savings when they purchase in advance online on its own, or as part of a special ticket combo for $64 (includes one-day admission and the meal).
The screaming doesn't stop at the haunted houses. All of Cedar Point's 71 rides and attractions add to the excitement, including park favorites like Millennium Force, Top Thrill Dragster, Maverick, Planet Spooky, the Cedar Point & Lake Erie Railroad and more. Select ride availability on Friday nights.
HalloWeekends welcomes guests every Friday night from 6 p.m. to midnight, Saturdays from 11 a.m. to midnight and Sundays from 11 a.m. to 8 p.m. through November 1. On Sunday, October 11, special hours will be 11 a.m. to 10 p.m. For more information on HalloWeekends, visit halloweekends.com.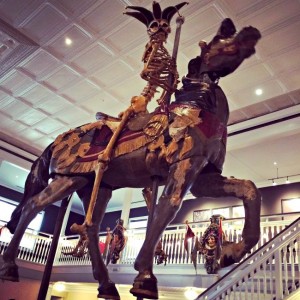 Cedar Point is just about four hours away from Cincinnati (depending on where you live).  It was a pretty drive north, and it really didn't seem to take that long to get there.   If you plan a trip to Cedar Point I'd recommend staying at the lovely Hotel Breakers where you can stay in a posh suite with your family and enjoy the view of the park on one side of the hotel and a breath-taking view of Lake Erie on the other side of the hotel.  You can play in the pools, sit by the fire pits, or grab dinner at one of their restaurants.  And Hotel Breakers goes ALL OUT decorating for Halloween!  It's a great family-friendly place to stay and within walking distance of Cedar Point, so no need to fight for parking!
When not blogging for Family Friendly Cincinnati, you can find Katie writing at her personal blog, www.thelittlethingsjournal.com