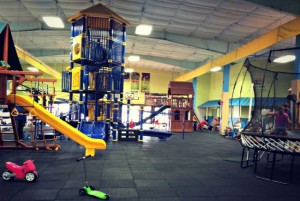 Until recently I thought that all backyard play-sets were all the same…if you've seen one you've seen them all.  I was wrong, there's a whole plethora of outdoor play-set options out there, and if you want to check out all of your options Recreations Outlet in Milford is the place to go!  What's that you say, a new play-set isn't in the budget for your family right now?  Well lucky for you, Recreations Outlet is a place you can pay to let your children play and check out the many different outdoor play-set options there are available.
We stopped by Recreations Outlet when we were visiting Milford one day this summer and I paid for the kids to have 2 hours of free play in the showroom.  They had a blast!  They jumped on trampolines, climbed on the play structures, shot some hoops and generally burned off a lot of energy running around.  They had more fun at Recreations Outlet than they did on some of our other summer adventures because it was an indoor play area, and our summer weather left a lot to be desired with all that rain and super hot days.  So year round Recreations Outlet is a great place to take the kids to get some exercise and have some fun!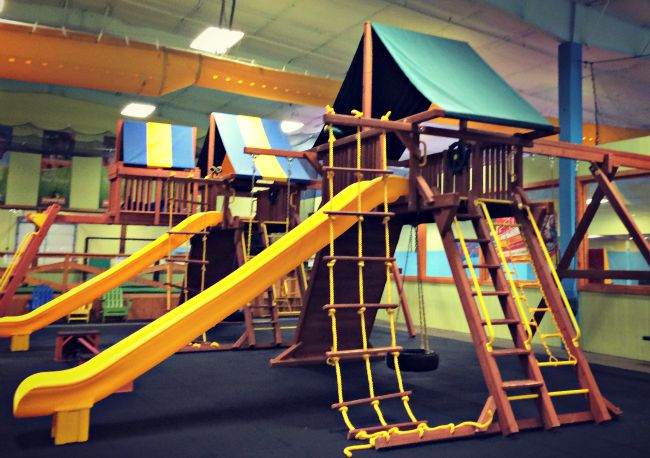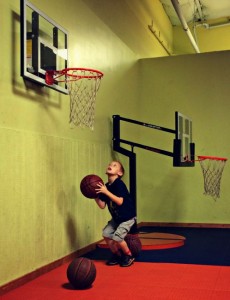 Recreations Outlet isn't just a great place for a day of play…you can also shop around, host birthday parties there, and you can even get your kids a haircut while you are there!  Junior Cuts Salon is a super kids-friendly hair salon that is located inside of Recreations Outlet.  My kids hate getting hair cuts, but I'd be willing to bet I could bribe them into tolerating it with a visit to Recreations Outlet before and after their appointment!  Check out this post on Family Friendly Cincinnati about Junior Cuts Salon.
Recreations Outlet is located at 885 OH-28, Milford, OH 45150  visit their website for all the details on memberships, visits, playsets, birthday parties and more!