Back for a second year, the region-wide choral competition CincySings, hosted by Drew Lachey, comes to Music Hall Wednesday, April 8 at 7:00 p.m. The competition will feature teams of choirs made up of employees from top regional companies, facing off in an evening of music and fun.
Tickets start at $20 and proceeds benefit the ArtsWave Community Campaign. VIP tickets are also available for $50, and include entry into the event and a pre-show reception with celebrity host (hello Drew…..) and judges, sponsored by Accenture.
As the nation's first and largest community campaign for the arts, ArtsWave supports the work and impact of over 100 arts and cultural organizations with grants and services. More than 400 companies and 40,000 donors contribute to the effort each year, many through workplace giving campaigns.
The winning team of CincySings will receive a special prize package from ArtsWave and have the chance to sing the national anthem at ArtsWave's "Art in the Park" Cincinnati Reds game on August 23.
CincySings builds on Cincinnati's incredible choral tradition, beginning with the May Festival Chorus and extending through the 2012 World Choir Games. For several years, both P&G and Cincinnati Children's Hospital Medical Center have run "Sing Off" events as part of their ArtsWave workplace giving campaigns, encouraging employees to create small choral groups and take the stage in support of ArtsWave. Last year, Melanie Healey, Group President – P&G North America and Chair of the 2014 ArtsWave Community Campaign, suggested expanding the concept to encourage other top regional companies to run internal competitions and then send their winning choirs to face-off in a friendly showdown. The event was a great success, bringing together employees from ten local companies for an amazing evening of music. CincySings also raised awareness for ArtsWave and participating companies increased their giving by an average of 11%.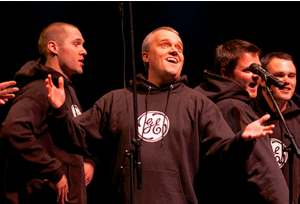 The competition has grown in its second year with sixteen companies fielding teams: American Modern Insurance Group, Cincinnati Children's Hospital Medical Center, Cincinnati Insurance Company, Duke Energy, Ernst & Young, Fifth Third Bank, GE Aviation, Great American Insurance Group, Horan, Horseshoe Casino, Macy's MCCS, Northern Kentucky University, P&G, TriHealth, University of Cincinnati, and UC Health.
Four companies that took top honors at last year's CincySings will go directly to the final round: P&G, GE Aviation, American Modern Insurance Group, and Cincinnati Children's Hospital Medical Center. All other teams must compete in the CincySings Semi-Finals, a new round of the competition added for 2015, for the remaining slots.
The CincySings Semi-Finals will be held March 14 at the Aronoff Center's Jarson-Kaplan Theater from 2:00 to 5:00 p.m. and open to the public with free tickets available at the door on the day of the show. Radio personality Jeff Thomas of Q102's "Jeff and Jenn" will be Master of Ceremonies for the CincySings Semi-Finals. Teams will have the option to be coached by local professional vocal artists in the weeks leading up to the event.
Tickets for CincySings are available through the Cincinnati Arts Association website: http://www.cincinnatiarts.org/events.
For more information on CincySings, visit http://www.theartswave.org/discover/events/cincysings and follow @ArtsWave and #CincySings on Twitter.
Disclosure: Family Friendly Cincinnati is proud to partner with ArtsWave to promote the fun and unique events they host throughout the year.  Information in this post provided by ArtsWave.