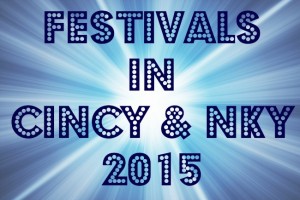 Our area is home to many great festivals, on both sides of the river.  There are all sorts of festivals in Cincinnati & Northern Kentucky…in fact, there's a little something for everyone!  We have a full list of festivals in Cincinnati and NKY, and it includes crafts, fireworks, cheese, ladies nights out, books, bluegrass music, pig roasts and much much more!  Start planning a year full of festival fun!
Please note – this post will be under constant construction, as we find out about and add more festivals throughout the year.  Pin this post so you can keep checking back to find more festivals!
Festivals in Cincinnati & Northern Kentucky ~
February ::
Appalachian Culture Fest at Union Terminal ~ Saturday, February 14th 2015 More details:  http://www.cincymuseum.org/events/passport
Clay Alliance Artist Garage Sale February 21, 2015 2511 Essex Place Art of all sorts at Garage Sale prices.  We made too much beautiful art and you get to benefit with bargain prices! www.clayalliance.org
March ::
Longbranch Elementary Ladies Night Out ~ Friday, March 20th, 7-10PM 2805 Longbranch Road, Union, KY  41091 A Fun Friday night Shopping Event with a variety of 70+ vendors!  Appetizers will also be available as well as Silent Auction items.  This Event will generate funds to support the educational programs that the PTA sponsors for the student body. https://www.facebook.com/LNOatLongbranch
Celtic Lands Culture Fest ~ Saturday, March 21st 2015 at the Cincinnati Museum Center
  April ::
Earth Day Celebration ~  April 18, 2015 from 12-5pm, Rain or Shine at Sawyer Point
Asian Culture Fest ~ Saturday, April 18th at the Cincinnati Museum Center
May ::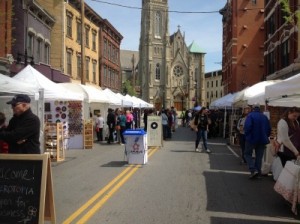 Clay Alliance Spring Pottery Fair May 2, 2015 DeSalesa Corner, Madison Rd. And Woodburn What could be better than getting outside on an early spring day in the newly revitalizing East Walnut Hills area to view and buy the latest creations of the city's best potters? There will be food and great music, but more important, there will be great work, great prices, and great demos. Maybe you will be inspired to get a little muddy too! www.clayalliance.org
Appalachian Festival  ~ May 8 thru 10 Coney Island Amusement Park Appalachian Community Development Association produces the Appalachian Festival every Mother's Day Weekend.  The Festival is an educational event for everyone that teaches thru great music and storytelling, crafts, Living History, demonstrations, displays, and food for every taste.  The Festival opens on Friday morning and goes thru Sunday evening rain or shine.  Visit us on the web for more information or call 513-829-1790. Appalachian Festival .org
Buckeye BBQ Fest ~ Friday May 15 5pm-11pm Saturday May 16 12N-11pm 9285 Centre Pointe Drive West Chester OH 45069 "The 2015 Buckeye BBQ Fest presented by UCBMA; a Rotary Club of WC/L Event, will be held on May 15th & 16th at the Union Center Square. We anticipate 15,000 attendees will sample lots of Blues, Brews and BBQ. Our Fest is a Kansas City BBQ Society (KCBS) sanctioned event and is designated an official State BBQ Championship by Governor John Kasich. 40 Professional BBQ Teams will welcome you into Pit Row while they vie for prize money and ranking by KCBS certified Judges. Competitors will also compete for the ""Peoples Choice Award""; the winner is voted on by the public.
We've teamed up with the Cincy Blues Society to book the top blues bands in the tri-state area and beyond. Some of our sponsors include Union Centre Boulevard Merchant Association, Park National Bank, The Butler County Visitors Bureau, Walgreen's, Tide Dry Cleaners, Baker Chiropractic and Ohio Eagle Distributors with their Budweiser Double-Decker Outdoor Pub. 12 BBQ Specific Vendors will sell pulled pork, ribs, brisket and wings. 50 other vendors will offer up; hot dogs and burgers, funnel cake, pie ala mode, grilled cheese, Pepsi, Coke, flavored waters, lemonade, shaved ice and more. Check out our new Artisans Row, with local handcrafted fair. We are also expanding the very popular KidsZone; featuring 3 bouncy houses, a children's petting zoo, face painting and other family oriented activities. www.buckeyebbqfest.org
CincItalia May 15-17, 2015 Harvest Home Park in Cheviot Cincinnati's true celebration of Italian heritage, CincItalia showcases Italian culture never before experienced at a Cincinnati festival. Drawing attendees from the entire tri-state area, CincItalia offers entertainment from national music acts, cooking demonstrations, activities for all ages, and authentic cuisine prepared by Italian restaurants and Cincinnati's Italian cultural societies. Bring your family to enjoy an Italian feast and try your luck at carnival games. It is family friendly with lots of games, activities, and rides for children. www.CincItalia.org
MainStrasse Village Maifest May 15, 16, 17 406 West 6th Street Covington KY  41011 Maifest celebrates spring with arts/crafts, music, food, an amusement midway and a Kinderplatz with rides for the and activities for the younger children. mainstrasse.org
DCCH Music Festival May 29 & 30, 2015 75 Orphanage Rd., Ft.Mitchell, KY 41017 Mark your calendars for the 3rd Annual DCCH Music Festival May 29 & 30! Live music on Main Stage featuring The Menus on Friday night, and Jamison Road on Saturday night!  Even more music from local musicians on our Acoustic Stage!  Same great eats in our Food Court! Expanded Craft Beer Garden featuring local favorite Madtree & more! Friday & Saturday, May 29 & 30 from 6-11:30 PM. Concerts benefit Victims of Child Abuse. For more information, please call 859/331-2040 ext. 8555. Check out our Facebook page for the latest band lineups, food vendors, pictures, and more! https://www.facebook.com/DcchMusicandArtsFestival
June ::
St Gertrude Festival June 12-13-14 6543 Miami Ave Madeira ~ Live music all 3 days, 1800 sq. ft auction booth, 65 activities, Sunday June 14 3-6 Armband ride special $10, 20 food booths all your festival favorites
Casino air-conditioned" www.stgertrude.org/festival
Ohio River Paddlefest June 18-20, 2015 Coney Island, 6201 Kellogg Avenue, Cinti, OH 45228 www.ohioriverpaddlefest.org
MainStrasse Village Original Goettafest June 19, 20, 21 406 West 6th St, Covington KY  41011 If you've never tried Goetta, now is you chance!.  Enjoy goetta pizza, goetta chili, goetta sliders, goetta chedda cheese, goetta tacos and many other goetta specialties and other festival favorites, browse the arts/crafts and enjoy the music along the tree lined Sixth Street Promenade. www.mainstrasse.org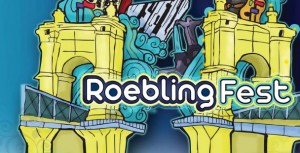 RoeblingFest June 20, 2015 Covington, Ky Focus on the Roebling Bridge History with tours, exhibits and character portrayals/performances. Day long Local Music, Arts and Craft fair, Silent Auction, Raffle, Local Food and Drinks, Fireworks, Pet and Family Friendly. Hand Across the Bridge Challenge. Please visit RoeblingFest and Roebling Suspension Bridge on Facebook to learn more details as we get closer to June 20th. Sponsors include CCSBC and Roebling Point Merchants, The CIty of Covington, Mercedes-Benz of Ft Mitchell, and Renaissance Investment Management . RoeblingFest – Facebook and RoeblingBridge.org Partners, Volunteers and Planners welcome!
St. Veronica  ~ June 26-28,2015 4473 Mt. Carmel Tobasco Rd.  Cincinnati 45244 Great live music, petting zoo, poker, raffles, rides, air conditioned children's game area, used media sale, bid and buy, and the best festival food in Cincinnati.  Sunday is family day with a salute to veterans and a homemade fried chicken/roasted pork dinner.
Mary, Queen of Heaven FunFest June 26, 27, & 28, 2015 1150 Donaldson Hwy., Erlanger, KY 41018 3-Days of great family fun. (Friday, June 26 6-11PM, Saturday, June 27 5-11PM and Sunday, June 28 3-8PM) Come out and join us. Games of skill, Games of chance, Rides, Entertainment, Food & Drink, Kidsland, $10,000 Raffle. Raffle tickets are $20 each and may be purchased by credit card by calling 859-525-6909. 2nd & 3rd prizes are $1,000 each. 3rd & 4th prizes are $500 each. Need not be present to win. KY Gaming license 0000535. Plenty of parking available in our back field and at St. Henry District High School with a free shuttle. On Sunday, the kids can ride the rides the entire time the festival is open (3:00-8:00PM) for one price of $20.
July ::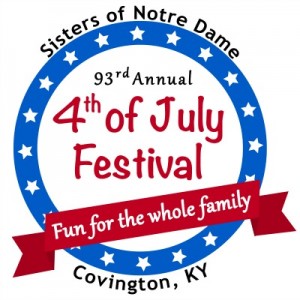 93rd Annual Sisters of Notre Dame 4th of July Festival 7/4/2015 1601 Dixie Highway  Covington, KY 41011 We have many kids games and activities including pony rides, petting zoo, and balloon man. This is more of an old fashioned festival. Silent Auction, Sisters Market with handmade and homemade items, raffles, musical entertainment. Great food and drinks. Everything is priced reasonably for families! www.sndky.org
The Ohio Challenge Hot Air Balloon Festival July 10, 11, 12 Smith Park at 500 Tytus Avenue, Middletown, OH The Ohio Challenge Hot Air Balloon Festival features a hot air balloon competition with over 40 balloons. Come out to see sky divers, special shape balloons, firework displays, beautiful balloon glows and more! Visit the website for an up-to-date schedule of events. www.ohiochallenge.com
St. Thomas More JulyFest July 10th, 11th, 12th, 2015 St. Thomas More Parish, 800 Ohio Pike, Cincinnati, OH 45245 "Bring family and friends out to the St. Thomas More JulyFest, one of the largest festivals on the eastside of Cincinnati. The St. Thomas More JulyFest is held the second full weekend in July, and is the major fundraiser for the parish. St. Thomas More's JulyFest was voted best festival in Clermont County for 2005. The 2015 event will be held July 10th, 11th, and 12th.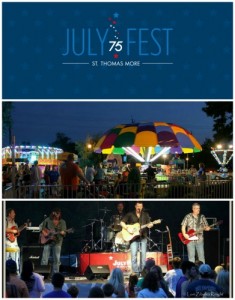 JulyFest offers great food and entertainment for the entire family. This year's festival offers games and midway rides for children from Murray Bros. Shows, as well as face painting, caricature artist, and photo booth. Raffles include our $10,000 Grand Raffle, and several big ticket raffles. Our JulyFest midway includes games available for adults and kids, and our famous JulyFest casino will host several tables of blackjack Texas Hold 'Em, 7 Card Stud, and Let It Ride. This year's JulyFest will include a variety of refreshments and food, including sausage sandwiches, roasted corn on the cob, brats, metts, hotdogs, hamburgers, baked potatoes, funnel cakes, homemade desserts, and more! Contracted vendors include LaRosa's, Hogs On Wheels, Kona-Ice, and Mr. Softee. And, of course no one will want to miss our delicious Sunday dinner! This year's dinner includes fried chicken, mashed potatoes, green beans, rolls, assorted desserts, and lemonade for $8. The Sunday dinner is from 1-8pm (or until we run out!) on Sunday. Beverages at this year's JulyFest include soft drinks, various imported and domestic beer products from our large Beer Garden, our Lime-A-Rita/Straw-Ber-Rita/Mang-O-Rita/Raz-Ber-Rita booth, and wines from Harmony Hill Vineyards.
JulyFest 2015 continues a tradition of music excellence, as we "Rock the FEST!" with a stellar line-up of local musicians performing on the JulyFest Soundstage. Friday night is the ""Friday Night Dance Party"" featuring The Cheap Thrill Band and 2nd Wind. Saturday night is the ""JulyFest Country Jam"" featuring The Taylor Shannon Band and The Dan Varner Band. Sunday is ""Beauty and the Blues"" featuring Anna and Milovan, Brian Keith Wallen, and The Doug Hart Band.  sttm.org https://www.facebook.com/JulyFest
Cincinnati Children's Choir Summer Festival July 27- August 1 University of Cincinnati, College-Conservatory of Music Young singers, ages 9-15, interested in enjoying and developing their skills in musicianship will come together for an exciting week as they attend inspiring, interactive sessions at the University of Cincinnati, College-Conservatory of Music. Sessions will include Vocal Artistry, sight-singing, Musicianship through Movement, Music Theory, and Choral Artistry. Come sing and make new friends with CCC this Summer! http://www.cincinnatichoir.org/programs/summer-festival/
August ::
 Taste of Mission ~  August 22, 2015 1318 Nagel Rd. Cincinnati, Ohio 45255 Stop by ""Taste of Mission"" to learn more about the Comboni Missionaries and our work around the world. Enjoy authentic food from Italy, Africa, Ecuador, Venezuela, Mexico, and many other countries while watching live performances.  There will be dancers and music from Africa and the Americas, other live entertainment, international beers and wines, a mission market, art and artifacts exhibits, face painting, and other activities for all ages. www.combonimissionaries.org
Beer Wine Food Festival Aug 28th 5pm – midnight Aug 29th 12-12 The Cure Starts Now www.beerwinefood.org Downtown Wyoming Green Kids Free; Adult Admission $10-50 "The Beer, Wine and Food Festival will return for its sixth year with a special "Chalk Street Art" on August 28-29, 2015. With over 80 craft ales and wines, entertainment lineup featuring The Websters on Friday night with Ricky Nye and The Carter New Band on Saturday.   New this year, street Chalk Art Exhibition!  Groups of artists will recreate masterpieces on the festival's streets while attendees can watch art in action. There will also be an opportunity for children to add their mark on a masterpiece and will receive free Graeter's ice cream for their participation.
September ::
Ohio Renaissance Festival ~  September 5th– October 25th, 2015 • Saturdays, Sundays, & Labor Day Monday • 10:30am – 6:00pm http://www.renfestival.com/
St. Barbara Church Rocktoberfest ~   September 11 (6 pm -midnight), 12 (5 pm to midnight) and 13 (noon to 8 pm) St. Barbara Church  4042 Turkeyfoot Road, Erlanger, KY 41018   Friday night enjoy music by The Remains, Saturday nights, Gee Your Band Smells Terrific, and Sunday is family day with a grilled chicken dinner and all the sides and dessert for only $7.50.  Plus Sunday is also "Tailgate Sunday"  Bengals games on big screen televisions.  Sunday is an all-day ride ticket.
St. Clement Festival and Pig Roast ~ September 11, 12 and 13 Vine Street Park, 4700 Burnet Avenue Great Food, Roast Pig Saturday and Sunday, Live Entertainment every night, rides, Sports Bar, one of the Largest Bid n Buy booths around, and much, much more. http://www.stclementcincinnati.org/
MainStrasse Village Oktoberfest September 11, 12, 13 406 West 6th St, Covington KY  41011 Oktoberfest brings a little bit of Germany to MainStrasse Village.  Arts/crafts, music, food, an amusement midway and a Kidnerplatz for the smaller festival goers. Enjoy the festival atmosphere, the old world architecture and the shops and restaurants that make up MainStasse Village. www.mainstrasse.org
How To Festival Sept. 12, 2015 Kenton County Public Library Erlanger Branch, 401 Kenton Lands Road, Erlanger Free Ever wished you could stilt walk, juggle, play the drums, ride a unicycle, grill the perfect steak, use a 3D printer, self-publish a novel, change a tire, read palms, caber toss, change an air filter or do perfect Halloween makeup? You can learn all of that and more at the How To Festival. This free event is for the whole family!
Hofbräuhaus Newport Oktoberfest Sept 12-13 12noon-11pm  Hofbräuhaus Newport FREE Come celebrate Oktoberfest with Hofbräuhaus Newport. Circus Acts, Kids Events, Adult Contests like Stein Holding, Keg Tossing and more.
Fall Harvest Festival September 19, 2015 10 am-5 pm September 20, 2015 12 pm-5 pm  Heritage Village Museum inside Sharon Woods Park 11450 Lebanon Road Cincinnati OH 45241 $8 adults, $5 kids 5-11 Autumn will be arriving soon and that means family fun during the Heritage Village Museum Fall Harvest Festival. Visitors will enjoy wagon rides, doughnut eating contests, pumpkin painting, and much more! Our historic 19th Century Village will be open for touring, along with cooking and cider pressing demonstrations.
Sharing the Harvest Fall Fest Saturday, Sept. 19, 11 am-4 pm Kenton County Public Library  401 Kenton Lands Road, Erlanger free Celebrate autumn with food, crafts, hayrides, music and much more. Co-sponsored by the Guardians of Hope.
St. Vincent Ferrer Fall Fest September 25, 26, 27 7754 Montgomery road Great Food, Bands and Rides, Bid n Buy Silent Auction, Kids Corner and a Grand Raffle svfchurch.org/festival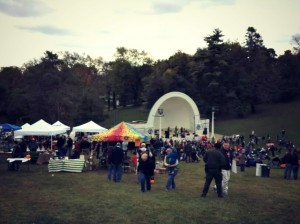 DevouGrass 9-26-15 –  1700 Montague Rd. Covington, KY 41011 DevouGrass is a daylong festival of Music, Artisan Craft Vendors, Children's Activities and Performances, and Food Trucks located in beautiful Devou Park. Check our website for exciting new additions to this year's fest as it grows closer. All proceeds will benefit The Children's Home of Northern Kentucky. www.devougrass.com
Fall Festival September 26, 2015 12:00pm-4:00pm Kenton Elementary PTA $5 wristband for games – additional cost for raffles, food and bigger games PTA's largest fundraiser of the year includes games, bounce house/slide, food, and raffles.  Great chance for kids, teachers, and parents to get to know each other and have fun! Opportunities are available to serve in all areas of the event.
Great Outdoor Weekend ~ September 26 and 27 Greater Cincinnati Have an adventure and try something new! Great Outdoor Weekend has kayaking, hiking, fishing, tagging butterflies, bird banding, archery, climbing, etc to make the nation's largest outdoor recreation and nature education sampler. These events are free and great for family outings! The weekend is full of more than 150 activities and programs, hosted at 50 different sites across the Tri State area. Check out the website for specific times and locations! www.greatoutdoorweekend.org
October ::
46th Ohio Sauerkraut Festival October 10, 9:00 am -8:00 pm, October 11, 9:00 am – 6:00 pm Waynesville Area Chamber of Commerce www.sauerkrautfestival.com Downtown Waynesville, FREE Make plans to attend this favorite event by many, the 46th Ohio Sauerkraut Festival, in Warren County Ohio.  This festival host 460 craft vendors from over 25 states.  All crafts are juried and must be handmade.  Don't forget all the sauerkraut served in traditional and non-traditional ways, such as cabbage rolls, reubans, German Sundaes, sauerkraut pizza, cabbage soup, sauerkraut pie, cookies, bread, brownies and so much more.  Not a fan of sauerkraut, that is ok we have plenty of food offerings for you too.  See you in Waynesville Ohio, for a premier festival in southwest Ohio!
Cincinnati Chocolate Festival October 11, 2015 1624 Herald Ave, Cincinnati, OH 45207 The Cincinnati Chocolate Festival lives up to its slogan, "making life sweeter for those in need," by donating proceeds to Cincinnati-area charities that benefit women and children. From 12-5, attendees can sample handmade chocolates, candies, frozen treats, and baked goods from over 20 vendors. Kids admission is free and there are plenty of activities they can enjoy in between tastings! http://cincinnatichocolatefestival.com/
Books by the Banks ~  Saturday, October 17, 2015 Duke Energy Center, downtown Cincinnati Books by the Banks is an annual celebration of books and reading that takes place every October in downtown Cincinnati. The day-long festival, which is free and open to the public, features national, regional, and local authors and illustrators; book signings; panel discussions; and activities for the entire family to enjoy. http://booksbythebanks.org/
Cincinnati Art & Antiques Festival October 23-October 25, 2015 Cincinnati Music Hall, 1241 Elm Street, Cincinnati OH 45202 The 50th annual Cincinnati Art & Antiques Festival will feature 30 outstanding art and antiques exhibitor. Located in Cincinnati's historic Music Hall, vendors will showcase 18th, 19th and 20th century fine art, prints, posters, silver, and English, American Continental furniture and accessories in stunning room settings. Tickets are $10, can be purchased at the door, and are good for 3 days of admission. Join us for a lecture and luncheon on October 23rd from 11-2, featuring founder of Blackberry Hill Kreis Beall and acclaimed interior designer Suzanne Kasler. Tickets are $60 and include a gourmet basket lunch from The Phoenix. Reservations are required and can be made by calling 513-561-0950 or by visiting www.CincinnatiAntiquesFestival.com. www.CincinnatiAntiquesFestival.com
November & December ::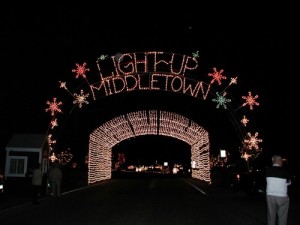 Light Up Middletown ~ In 2015, Light Up Middletown will run from Thanksgiving Day through New Year's Eve. 11/26  – 12/31/2015.  Admission is by donation – guests set their own entrance fee.  The drive-thru fantasy light display grows each year and features thousands of sparkling LED lights in dozens of animated displays.  Hours are 6-10 pm every night, including holidays, rain, snow or moonshine.  Contact 513-423-1877, 513-267-2789, or www.lightupmiddletown.org.  Location: Smith Park, 500 Tytus Avenue, Middletown, OH 45042.  I-75, exit 32, follow the signs to downtown Middletown.
Don't forget to keep checking back, we'll be adding to this post!  And to add your event or add information to your event listing above, simply fill out this online form: http://bit.ly/1cJ2khS