I had a chance to check out Cincinnati's newest pizza parlor recently and I was very impressed and can't wait to go back and try out more pies.  I'm talking about Pi Pizzeria, at the corner of 6th and Main downtown.  Pi Pizzeria offers up deep dish pizzas, thin crust pizzas, vegan options (call six hours in advance), and they even have a gluten free option.  In addition to their pizza pies, they have salads, appetizers, desserts and a wide selection of craft brews.  They offer something to please everyone.
The restaurant is pretty big, and even though it was quite busy when we went (at noon on a weekday) we were able to get a table right away and the service was fantastic.   Pi Pizzeria has tons of windows that let the light flood in and provide a great view of the hustle and bustle of downtown life going by on the street and sidewalk outside.  The walls are adorned with cool art work, and they offer lots of seating to choose from – perfect spots for a date night, or a large family dinner or just meeting friends at the bar.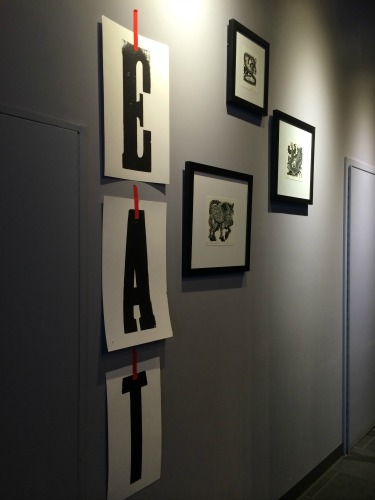 We started the meal with an appetizer – the "Billy Goat chips" served with French Onion Dip.  These were so tasty and rather hard to stop eating.  I used to think that the French onion dip I make at home was the best, but then I had Pi Pizzeria's…and I feel like my recipe could use some tinkering.  Their dip was soooo good!  For lunch my friend and I had the Delmar deep dish pizza (roasted chicken, cheese, peppers, onion and cilantro) and the Western Addition deep dish pizza (mozzarella, spinach, mushroom, onion, ricotta, feta, garlic) and they were both outstanding.  And not just that day…when reheated in the toaster oven for lunch the following day the Delmar was still delicious.  I think this may just be the best deep dish pizza I have eaten, the cornmeal crust was just perfect and the toppings were well proportioned, not too much, not too little.  The boys noshed on a thin crust pepperoni pizza and I did not ask them what they thought of it, but given that the entire thing was inhaled in record time I'd venture to say they enjoyed it.
Our Pizzas: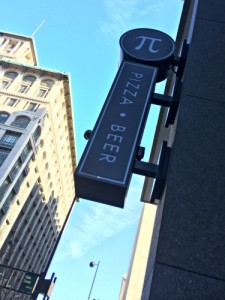 Next time your family is hungry for pizza head downtown and check out Pi Pizzeria.  Their location make it a great place to grab a bite to eat before a show at the Aronoff or a visit to the Contemporary Arts Center.  Whatever the occasion, Pi Pizzeria is a great place to kick back and have some great pizza!
Pi Pizzeria is located at 199 East Sixth Street Downtown (corner of Main & 6th).  Parking is available at meters and local parking garages. Visit the Pi Pizzeria website for more information including their hours and menu.
When not blogging for Family Friendly Cincinnati, you can find Katie writing at her personal blog:  www.thelittlethingsjournal.com.