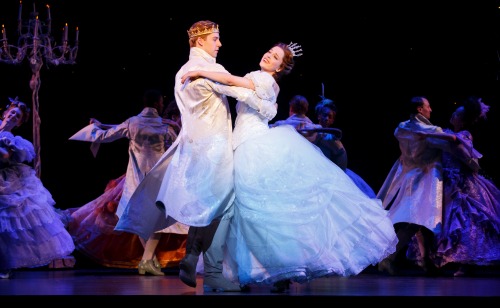 Last week, my little diva and I saw Rodgers + Hammerstein's Cinderella at the Aronoff Center in downtown Cincinnati. She was beyond ecstatic.
This play was, by far, her favorite. First of all, it's all about a princess.  What five year old doesn't love that?  Second, the dresses and scenery are fabulous and dreamy!
My kids always have questions about the show. Questions about the theatrical aspect, not just the plot…are those microphones they are wearing? Are those puppets? How did that throne move by itself? Are there wheels under it? They want to know how the magic happens!
This show was amazing and even had me asking questions.
How did the Fairy Godmother change her rags into that white dress??? Right before our eyes.
I do not know.
There was no smoke. No hidden panels. Ella spun around a few times and BAM, she was wearing that beautiful dress and tiara.  It was phenomenal.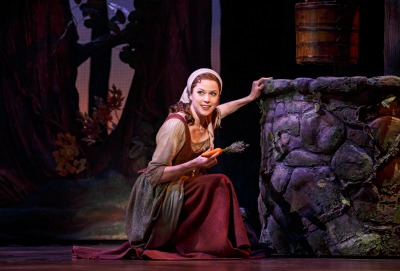 This production of Cinderella is entertaining for both adults and kids. There is humor, dragon slaying, singing and dancing, as well as a sub plot of forbidden romance. Ella, called Cinderella by her stepmother, lives in the forest with her horrid stepmother and stepsisters. She does all of the cooking, cleaning and other dirty work of the typical Cinderella. Prince Topher, soon to be King, is trying to figure out how to be king and how to properly rule the land. Of course, there is a Ball, a lost slipper and a huge search for the owner of the shoe. But, there are lots of funny twists on the traditional story that you will surely love. You may even grow to love, or tolerate, the stepsisters.
From the creators of Oklahoma! and The King and I, Rodgers + Hammerstein's Cinderella is the Tony Award-winning Broadway musical with a contemporary take on the classic tale. This lush production features an incredible orchestra, jaw-dropping transformations and all the most loved moments —the pumpkin, the glass slipper, the masked ball and more—plus some surprising new twists! Audiences are invited to rediscover some of Rodgers + Hammerstein's most beloved songs, including "In My Own Little Corner," "Impossible/It's Possible" and "Ten Minutes Ago," in this hilarious and romantic Broadway experience for anyone who's ever had a wish, a dream… or a really great pair of shoes.
If you'd like to see Rodgers + Hammerstein's Cinderella, you can find more information on the show and order tickets HERE. The show plays thru January 18th at the Cincinnati Aronoff Center.
Disclaimer: I was provided tickets to the event. All opinions are my own.