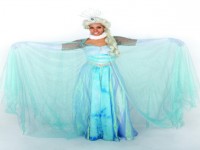 Friday night I took my younger two kids, ages 5 and 7, to see The Snow Queen at The Children's Theatre of Cincinnati.  They were expecting a performance like Frozen, even though I explained that this was something different.  I was a little worried they'd be disappointed when they didn't see Elsa or hear Let it Go.
They were not.
From the minute the dancing towns people came out on stage to the very end when the last character took a bow, their eyes were glued to the stage.
The Snow Queen is the story of Prince Kai and Princess Gerda, who are in love but Kai is too shy to ask the princess to be his bride.  Enter the Snow Queen. Kai asks her to grant his wish to have no emotion so he can ask the Princess to marry him.  She does not want to do this but is bound by the winter solstice to grant any wish that is requested.  What ensues is an adventure to rescue Kai from the Snow Queen's curse.  Along the way we meet such funny characters as Kai's valet, Winnifred the lady's maid, and my favorite…a dancing reindeer.  Extra points if you can understand and pronounce his name!
We also meet the evil Baron who was once  a snowflake, but also made a wish on the winter solstice…but, I don't want to reveal too much!!  See if for yourself!
The kids loved the show and always have lots of questions about the props, costumes, and actors.  This is a great performance to enjoy this holiday season with the entire family.  It is fast paced and fun.  There is no intermission and The Children's Theatre of Cincinnati is a great place for kids to have their first theater experience.
Remaining public performances of the show are:
Saturday  December 13, 2:00pm and 5:00pm
Performances are at the Taft Theatre, located at 5th and Sycamore Streets in Downtown Cincinnati. Tickets range in price from $7-$25 and may be purchased on line at www.thechildrenstheatre.com
Disclosure:  I was given free tickets in exchange for a review and giveaway.  All opinions are 100% my own.