Have you been to the Old West Festival yet?  It's one of our favorite yearly events and we finally got a chance to head up to Williamsburg, Ohio yesterday for this wonderful and family-friendly event!  It was Steampunk Weekend, and we saw many amazing inventions and costumes, watched a few shoot-outs, saw some sword swallowing courtesy of The Pickled Brothers Sideshow, watched some trick roping by Rider Kiesner, ate some tasty chuck-wagon grub, panned for gold, rode some horses, shot a bow and arrow, tossed some tomahawks, and SO much more!  Here are a few pictures of our day: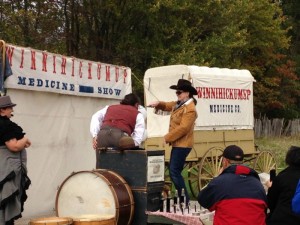 We had a fantastic time and had gorgeous Fall weather —  In my opinion, it was the perfect day!
Next weekend is the final weekend for the Old West Festival 2014 and it's Halloween Weekend!!  Every child 12 and under dressed in their Halloween Costume, no matter what it is, gets in for only $1!!  What a great way to celebrate a gorgeous Fall weekend than by enjoying great shows, delicious food, awesome shopping, and great kid activities!
Hope to see you there!
The Old West Festival is located at 1449 Greenbush Cobb Road in Williamsburg, Ohio.  Cost is $12 general admission; $6 for children ages 6 to 12; and children under 5 are free.
** $2 off for Military personnel with ID and Senior Citizens.