I'm always on the lookout for FREE activities and events that are not only fun for the kids, but fun for the whole family.  On Saturday, October 4th there will be the trifecta of FREE family fun, and it all takes place in Covington!  Our friends at the Devou Good Project,  Children, Inc. and the Behringer Crawford Museum have declared October 4th to be "Kids Love The COV" Day in Covington!  You will be able to spend the entire day in Covington both in the Main Strasse Village and Devou Park, having all kinds of kid-friendly adventures.  This event is not just for folks who live in Covington, families from both sides of the river are invited to join the fun!
The day begins at the Wee Folk Magic of Art Festival in the Main Strasse Village where kids can don their fairy wings and super hero capes and take part in free fun craft activities and live performances.  And then you can grab a bite to eat in one of the  many great restaurants in the Main Strasse Village for lunch (or grab some sweets at the Candy Bar).
After the Wee Folk Magic of Art  Fest you should pack your family up and head up to Devou Park for even more fun!  The Behringer Crawford Museum (which is a Family Friendly Cincy favorite) will be offering FREE admission for children from 10am until 5pm!  And starting at noon is the DevouGrass Festival, where you can listen to great local bluegrass bands while dining on scrumptious grub from the food vendors.  There will be FREE activities for kids (including a visit from Circus Mojo AND Joel the Singing Librarian), and there will also be numerous craft vendors attending and selling some really creative and cool stuff.
All The Details You Need for Kids #LoveTheCov Day: 
On Saturday, October 4, 2014, three events are taking place in Covington, KY making it a very special and exciting place for kids and families. All are invited to come partake in this great sampling of Covington's family-friendly entertainment.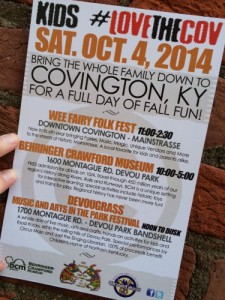 The 6th Annual Wee Folk Magic of Art Festival returns for its sixth year at Covington's Goebel Park from 11:00 a.m. to 2:30 p.m. on Saturday, October 4. The festival will offer hands-on activities for families to explore art as an experience and learn new ways to build enriching art experiences at home. Event activities include interactive music, dance, drama and visual arts provided by various community partners. Event partners are comprised of local arts, education and children's organizations and local community members who believe art experiences develop self-discipline, creativity and confidence that will help children to succeed in school, work and life. Partners also include members who believe in bringing more family events and enriching experiences to the Covington community. Details at www.facebook.com/events/1439430706336067
The Behringer-Crawford Museum, located in Devou Park, is offering free admission to children. Travel through 450 million years of our region's history along Rivers, Rails and Runways. BCM is a unique setting for interactive learning. Regional history has never been so fun! Visit www.bcmuseum.org for hours and exhibit information.
The first annual DevouGrass Music and Arts festival will take place at Covington's Devou Park Bandshell. The free event will run from noon until dusk and feature bluegrass music, regional artisan craft vendors and gourmet food trucks. The family-friendly fest will also include entertainment for kids of all ages and hands-on activities provided by Behringer Crawford Museum. The inaugural DevouGrass lineup will include four locally celebrated bluegrass and Americana bands. The Cincinnati-based trio Blue Caboose will kick off the festivities at noon, followed by the city's only all-female acoustic band, Ma Crow and the Lady Slippers, at 3:00 and the award-winning "newgrass" up-and-comers Hickory Robot at 4:30. The raucous Downtown County Band will perform the final set at 6:00. Special performances by Joel the Singing Librarian and Circus Mojo are slated for 1:00 and 2:00. All proceeds will be donated to Children's Home of Northern Kentucky to benefit CHNK's new chemical dependency treatment program. More information at www.devougrass.com.
Mark your calendars now for 10.4.14 ~ it will be a day of fun you won't forget! 
Be sure to Follow Along on the DevouGrass and Wee Folk Magic of Art Festival Facebook pages so you don't miss any upcoming announcements about the events or fun giveaways!
While you are out and about at these events please share your fun experiences on Twitter & Instagram!
#KidsLoveTheCov #WeeFolk2014 #DevouGrass