WOAH! have you taken the kids to check out the new park in Blue Ash? If you haven't, then make it a point to go soon. Phase I of Summit Park (the old Blue Ash Airport) opened up on August 9. It includes a huge green lawn perfect for throwing frisbees, having a picnic or just running with your shoes off.
There's also this: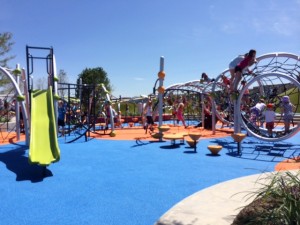 My picture doesn't do this justice. It's spectacular. It's amazing. It's fun! My kids think it's better than a certain park located downtown that's named after a president. Honestly I've not seen a park in Cincinnati designed like this. Maybe there is, and if there is, be sure to share in the comments as we love to go park visiting.
The playground of the park is divided into three sections – the toddler section, the 5-12 section and then just this random crazy green hilly turf section. Watching the kids skid, roll and pretty much throw them selves down the hills; jump between the hills; and act over all goofy is a blast.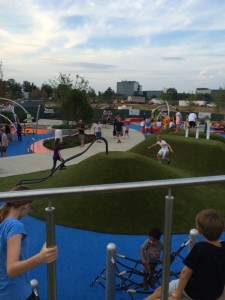 The park is open dawn to dusk, and has some basic rules – no dogs, no cleats, no bikes, etc. It's a contained park, so as long as you hang near the entrance, there's no escaping of little munchkins.
Water fountains and bathrooms are located within the playground, although the bathrooms aren't always open (which is puzzling in August).
Summit Park is located on the corner of Glendale-Milford and Plainfield Rd. Parking is located off of Glendale-Milford.
Disclaimer: When not writing for Family Friendly Cincinnati, you can find Karen on her own blog at Little World After All.