Kenwood Towne Centre has added a new shop this week.  Hanna Andersson is opening it's doors this weekend, and they are opening them with a bang!  They will have a lovely sale going on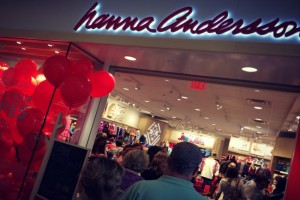 through this weekend – 20% off of clothing and buy one get one free Pajamas for kids!  What a deal!  FFC contributors Katie & Karen visited Hanna Andersson to check out all of the great clothes, pajamas and accessories and we were quite impressed!  I can't wait to do some shopping and get some new duds for the kids!  Please note, sale ends August 10th, and the Kenwood store is selling children's and infant's clothes, not ladies.
The Hanna Andersson company prides itself on providing high quality comfortable clothing for munchkins and for women.  Their clothes are designed for KIDS, which I love.  I'm not a fan of dressing my young children like tweens.  I like to buy them clothes that look like they are made for young children.  They have fun designs on the clothes and pajamas, like owls, dragons, vikings and more!  Their clothing line is downright adorable and as I said, they create high quality clothing that stands the test of time.  This is important for Mamas such as myself with four kids.  I treasure well-made clothes that I can hand down from child to child!  It's well worth it for me to spend a few extra bucks to get well made comfortable clothing for the kids that will last through three sons instead of buying cheaper clothes that cannot make it through even one son before falling apart.
Make plans to visit the new Hanna Andersson store soon!  You'll want to stock up on some back to school clothes and pajamas for your kiddos!
Disclaimer:  Family Friendly Cincinnati was invited to visit the new Hanna Andersson store in Kenwood.  We recieved complimentary items at the event, but the opinions are 100% my own, as usual!