There's a gem of a restaurant in Hebron that is worth a visit if you enjoy delicious food, craft beers and unique menu choices. The Hebron Grille just became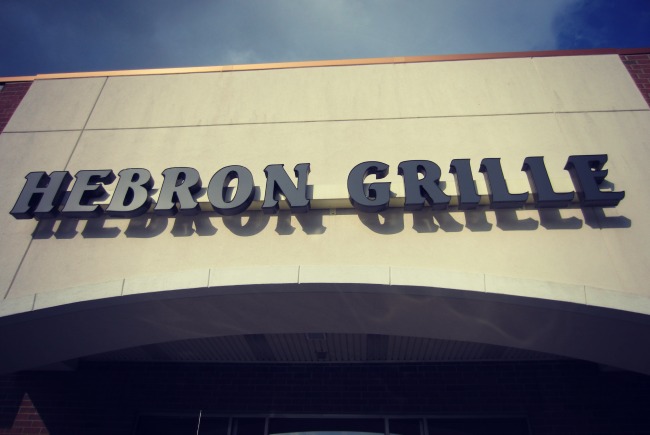 one of our favorite restaurants.   Hebron isn't exactly close to my house, we had about a 20 minute drive to get there, but it was so worth it for the meal we experienced at the Hebron Grille.  The Hebron Grille opened early this year, and it is owned by the same folks who own one of my favorite local pizza joints, Giuseppe's in Covington.  I know that the owner takes great pride in creating his menu items at Giuseppe's, so I was interested to see what he would come up with at the Hebron Grille.  I was not disappointed by his creations.  The menu was overflowing with both interesting and unique choices as well as old stand-by items like burgers and steak.  It took us FOREVER to decide what we wanted to eat, because they have one of those menus that just make you want to eat it all.  So many great choices!
Here's a peek at just a few of the menu items…there's just to many to list, but they also offer sandwiches, burgers, salads, awesome appetizers and more.  And I peeked at their specials menu as well and it was full of great seafood and a steak option.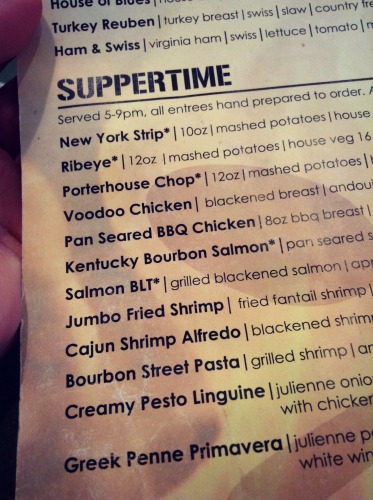 I ended up choosing the Salmon BLT served with Truffle Fries and it was out of this world.  Michael had the Cajun Shrimp Alfredo, and he really liked that.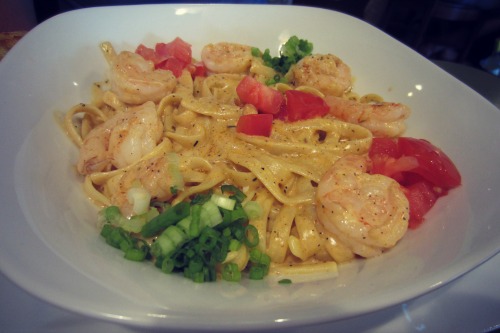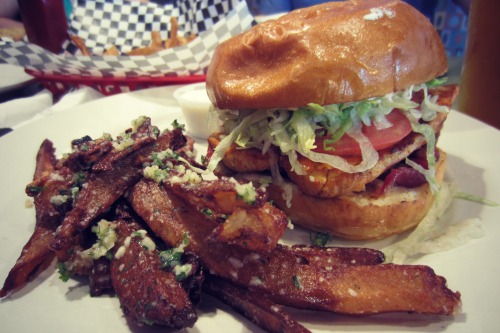 I thought the Kids Menu was great, and reasonably priced.  I loved that they didn't just have the traditional sorts of items you find on a Kids Menu, but rather they mixed it up a bit with a Fluffernutter Sandwich, Shrimp and Salad options.  That's great!  And when I eyed the meals that they brought to other kids in the restaurant, the portions seemed quite nice.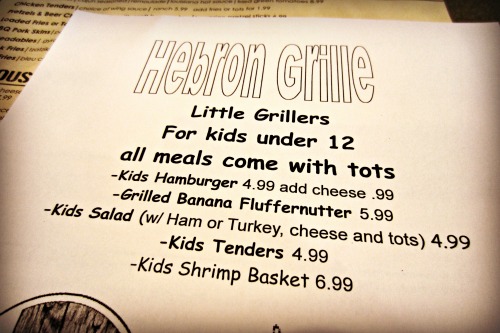 My kids did not order from the Kids Menu.  They had a rare moment of wanting to try something new.  So they had the gator & shrimp appetizer with fried green tomatoes.  And a side of fries.  They loved their dinner!!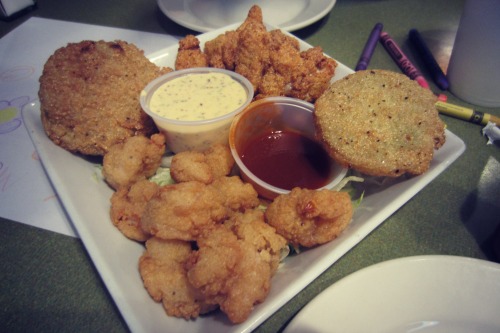 So I've told you about how great the food is, I have to mention the beer selection.  Michael and I are a big fan of local beers and craft beers.  We were really happy to find that Hebron Grille had a fantastic selection of brews from places such as Three Floyds, Founders, Madtree, Jackie O's and many more.  It's also important to note that Hebron Grille had fabulous service.  Our waiter was great, he answered my 1.5 million questions without batting an eye, was very attentive.  The prices at Hebron Grille were not too pricey, and you get a bang for your buck…big portions and delicious food.  Hebron Grille is perfect for date nights or for a family outing, plenty of space at the bar section and in the restaurant and they have outdoor seating as well.
If you don't live near Hebron and you are fretting over the long drive you can always combine the trip to this restaurant with another outing.  For instance, if you are picking up someone from the Airport…take them for a nice dinner to welcome them home.  Or perhaps you want to do some shopping?  The Gap Outlet is right across the street, and Galerie Candy is not too far away either.  Or maybe you just want to take a drive in the country?  Stop by the Hebron Grille for a bite after driving around some of the great gems in Boone County like Rabbit Hash or Route 8 along the Ohio River.  I am telling you, it's definitely worth a trip to try the food.
Hebron Grille is located at 1960 North Bend Road in Hebron, just off of 275.  Check out their Facebook Page for more details.