Each spring the Kenton County Public Library host an "Early Childhood Literacy Fair" that is free and open to the public.  The goal of the Early Childhood Literacy Fair is to get the young ones excited about reading at an early age.  As a former preschool teacher and a mother of four young ones myself I highly value reading, because I know how essential reading is to everything we do in life.  I started reading to my children when they were newborn babes, and now I'm reading Harry Potter with them.  My husband and I also make sure that they see us reading for pleasure as well, so we can be good role models and show them that reading is fun at any age.  Throughout my time as a parent the Kenton County Public Library has been a key player when it comes to raising readers.  There are story times for all ages, helpful librarians to guide you to the perfect book, and there are rows and rows of books just waiting for you to grab them and go on a reading adventure!  And these are just the every day ways the library helps my family, but once a year they have the Early Childhood Literacy Fair, and that has always been a favorite event of ours.  If you have never been to the Literacy Fair, I suggest you give it a whirl this year, I think you are going to love it!
On Saturday, April 5th from 10:30am until 1:30pm at the Covington Branch of the Kenton County Public Library there will be a myriad of fun activities for your family to enjoy!  The Contemporary Arts Center will be there with hands-on activities, Zak Morgan will perform, the first 300 children get a FREE book, you can snap pictures in a photo booth, shop at a Joseph Beth book sale, and MUCH MORE!  Mark your calendar now for the Early Childhood Literacy Fair!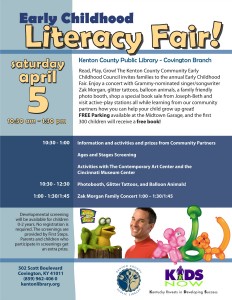 Have fun at the Literacy Fair!  And if you'd like to read more about Early Childhood Literacy take a moment to read this post by the fabulous Ms. Amy (Children's Librarian at KCPL) on the Kenton County Public Library Blog.