Last year we told you the story of Helen Wichmann who,
in 2007, after battling hard for years, lost her battle against ovarian cancer.   After months of extended hospital stays, chemotherapy, radiation, pain, and surgeries, she was given the gift of being able to spend her last days at home, and pain free, by Hospice of the Bluegrass.  She was able to pass on with her family and friends near her, as she had spent her life, surrounded by love.
The Wichmann family felt strongly that they wanted to share their experience with Hospice of the Bluegrass, and wanted to give back to the organization that had been such a blessing to their mother.  They also wanted to find a way to help fight cancer, and help those being faced with the loss of a loved one.  Finally, they wanted to celebrate Helen's life and honor her memory.  As a result the Yellin' Helen Strike Out Cancer Bowl-a-thon was born!  You can read more about Helen in our post from last year, then come back and read more on how you can help support this wonderful event!
Here's a little about the event from the family:
On Saturday, March 29, 2014 the Helen Wichmann Memorial Fund will hold its 7th Annual Yellin' Helen Strike Out Cancer Bowl-A-Thon.  All proceeds from this event will go to Hospice of the Bluegrass-Northern Kentucky and the American Cancer Society. Once again, both organizations have graciously offered their support for this event, and we hope you will as well.

We established the Helen Wichmann Memorial Fund after losing our mother to Ovarian Cancer.  Like many others whose lives have been affected by cancer, our experience left us with a strong desire to help fight this disease, and to help and support those whose lives it affects every day. Please join us in our efforts.

In six years hosting this event, we have raised $106,000.00 for Hospice and ACS. Please help us to make this year's event an even bigger success.  This year's event again will be held at the Erlanger Super Bowl, we will have bowling, raffles and silent auction items.
The community comes together to donate amazing items for the silent auction tables as well as the raffle.  In years past their Grand Raffle has boasted such amazing items as an iPad as well as a 42″ flat screen tv!  Take a chance on split the pot as well, you might get lucky.  You'll also get the chance to go for a strike with Helen's own bowling ball…and if you get one you win a prize!  There is also an actual bowling tournament, with prizes, for the team with the best game.  All 64 lanes of the Superbowl are reserved for this event but fill up really fast so make sure to visit the Yellin' Helen website at yellinhelen.org and register your team right away!  They will take walk in teams on the last day if there are lanes available as well, but don't count on there being any left…this event is way too much fun!
The cost to register your team of six is $180 and includes bowling from 12 PM until 3 PM, a shirt for everyone on the team, and bowling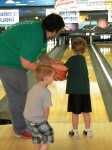 shoes.   Get creative with your team name as there is a prize for the best one!   If you are unable to attend but would like to donate you may do so on the yellinhelen.org website as well.  Even if you don't want to bowl I encourage you to come, buy a raffle ticket, bid on a silent auction item, and watch all of the rest of us try to avoid hitting people in other lanes with their bowling balls.  Wait…I'm the only one who does that?  Oops!
Donate a Memorial Gift Basket:  Remember a loved one with a basket or auction item donated in their memory. Create a basket which captures your loved ones personality and send us a picture to display at the auction.
Become a Sponsor:  Make a cash or in-kind donation and become a sponsor for our event.  Cash donations may be made payable to the Helen Wichmann Memorial Fund and can be mailed to 4132 Dixie Highway, P.O. Box 18063, Erlanger, KY 41018 or may be made on-line at www.yellinhelen.org.  If you have any questions, or would like to contact us regarding in-kind donations, please contact Kristi Arthur at (859)342-5840 [email protected] or Kim Quinn at (859)342-5840 [email protected]. We are always in need of gift baskets, gift certificates and auction items.
The Yellin' Helen Strike Out Cancer Bowl-a-thon is on March 29 from Noon until 3 PM at the Superbowl in Erlanger which is located at 510 Commonwealth Avenue in Erlanger,Ky.  For more information, to register your team, or to donate, please visit yellinhelen.org.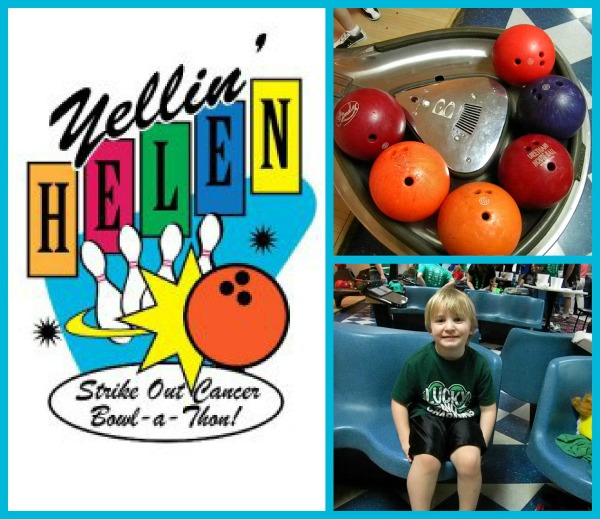 Bring your kids, get your team together, and help the Wichmann family Strike Out Cancer!