Mardi Gras is quickly approaching, and while we might associate Mardi Gras with parade floats, New Orleans, and questionably attained strands of beads, you can also celebrate Mardi Gras with your family and have a great time!
Mardi Gras Fun Around Town::
Newport On The Levee —  Join Newport on the Levee for the biggest, family-friendly Bayou Block Party in the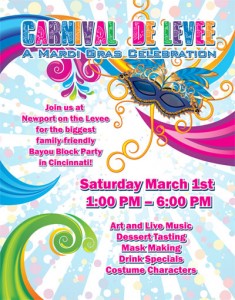 Greater Cincinnati/Northern Kentucky area!  Festivities include: mask making for the first 300 people, dessert tastings, live music, costume characters, drink specials, and more!  Special activities include:
Aerial Acrobats from Circus Mojo  from 1:30 PM – 5:30 PM
Cajun Band, Laginappe, from 1:30 PM – 4:30 PM
$5.00 6oz. Gumbo from Mitchell's Fish Market!
$1.00 Baklava from Petra Cuisine!
Non-Alcoholic Strawberry Daiquiri Smoothies and Mardi Gras cookies for purchase at Saxbys Coffee!
Non -Alcoholic Irish Grog at Claddagh Irish Pub!
Saturday, March 1 from 1 PM – 6 PM at Newport on the Levee.
Mardi Gras: The pancake feast —A Fort Thomas church is reviving one of the lesser-known traditions of Mardi Gras: The pancake feast. Christ Church UCC will hold its second annual "Shrove Tuesday" dinner from 5 to 7 p.m. on Tuesday, March 4. Free and open to the public, the evening includes a meal of sausage, fruit and all-you-can-eat pancakes, live jazz and kids' craft-making and face-painting. The church is located at 15 S. Fort Thomas Ave., across from the post office. For more details: http://christchurchuccft.org/shrovetuesday
YMCA –Fit Tuesday Mardi Gras fun on Tuesday, March 4.   Join YMCA staff, community members, and street performers for a Fit Tuesday Mardi Gras parade to Fountain Square. Parade begins at 11:30 AM at the Central Parkway YMCA and will march to Fountain Square for a giant dance party on the square from 12 PM – 1 PM.  Visit any of the 13 YMCA of Greater Cincinnati branches in Greater Cincinnati and Northern Kentucky on Fit Tuesday for a full day of free Mardi Gras fun. Wear your most colorful clothing and sample some of the 2,500 group exercise classes that are offered at the Y each month, including Zumba, Yoga, Aqua Boot Camp, Adult and Youth Hip Hop, Dance Aerobics, and much more.   www.MyY.org
Mardi Gras at the Market —  Findley Market.  10 a.m.-4 p.m. Cajun Music by Lagniappe, Cincy Brass, Robin Lacy & DeZydeco and Ricky Nye, lowland seafood boil tasting, New Orleans style parade around market, decorations and beads. Free event, and who doesn't love Findley Market!  513-665-4839; www.findlaymarket.org
Public Library of Cincinnati  and Hamilton County— There are many fun events at your local libarary, here are just a few:
Mardi Gras Masks – Monday, March 3 at 7:00 PM at the Sharonville Branch, 10980 Thornview Drive, (513) 369-6049.  Celebrate the fun and festivity of Mardi Gras by making a mask! Materials provided. All ages welcome. No registration required.
Mardi Gras Masks! BeTWEEN The Pages – Tuesday, March 4 at 3:00 PM at the Westwood Branch, 3345 Epworth Avenue, 513-369-4474.  Children and teens, you're invited to our Carnival celebration! Stop by and make your own Mardi Gras mask! Enjoy a slice of King cake and stay for BeTWEEN the Pages where we'll share stories from the bayou! No registration required.


Set the Table::
King Cake –  It's a must have for any Mardi Gras get together.  Green, gold and purple sugar dusts the top of this delicious cake that traditionally is round or oval, like a crown, and holds a small baby figure. Whoever gets the baby in his or her slice of King Cake, is traditionally the king (or queen) of the party and sometimes gets to pick a royal partner to help rule. Getting the baby also supposedly brings good luck.  Try Busken Bakery, Servatii's, Graeter's Bakery or many other local bakeries (including Kroger) and start a new tradition.
If you are feeling adventurous you can order a King Cake Mix like this one:  Mam Papaul's King Cake Mix. FFC's Karen makes this every year! While you are on Amazon you can also order some beignet mix from Cafe DuMonde and Hurricane drink mix from Pat O'Brien's and make it a truly authentic New Orleans style feast!
Paczki – A confection of Polish descent, a Paczki (pronounced punch-key or poonch-key) became a Lenten staple in Polish households as a way of using up the sugar, fruit, and lard before Lenten fasting began.  They are now a way to treat yourself on Fat Tuesday.  What you would think of as a jelly donut, but with many different fillings, sometimes coated in cinnamon sugar, and much larger than your average donut.  If King Cake isn't your thing then grab a box of Paczki to celebrate Mardi Gras!
Now that you've got dessert covered you can think about an entree like red beans and rice,  gumbo, jambalaya, po' boy sandwiches, or muffulettas.  Discovering new cultures and foods are a great way to get the conversation started, and kids love to cook.
Dress It Up::
Can't have Mardi Gras without masks!  This is a great opportunity to have some creative fun with the kids and create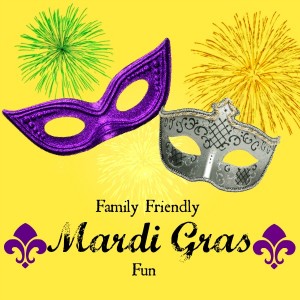 masks of your own – we found a Pinterest board devoted to Mardi Gras crafts with kids that has both DIY masks as well as jester hats that look like a ton of fun to make.  Or if you are looking for something a tad fancier, head to The Theatre House in Covington or Cappel's in Cincinnati and grab some fun masks, beads, and more!  Grab some purple, green, and gold crepe paper and decorate your house like a Mardi Gras krewe float and let whoever found the King Cake baby throw "gold" coins to the crowd.
No matter how you celebrate Mardi Gras, it's bound to be a fantastic time!  So Laissez les bon temps rouler…Let the good times roll!