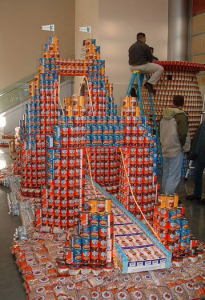 Check out cool, unique sculptures made from canned goods AND help feed those in need? Sounds like a win-win to us!
Starting next Tuesday, March 4 and running through Sunday, March 23, Canstruction – a large-scale art exhibit featuring sculptures constructed of canned goods and other non-perishable foods – will be on display at various downtown Cincinnati locations.
The exhibit benefits the Freestore Foodbank and sculptures were created by teams representing Cincinnati's best design, architecture, construction and engineering firms. The collection of sculptures, which will require more than 50,000 canned goods to complete, is designed to call attention to the pervasive issue of hunger in the Greater Cincinnati community.
Canstruction sculptures will be available for viewing at The Weston Art Gallery in the Aronoff Center for the Arts, the front lobby of the Aronoff Center for the Arts, the Scripps Center on Walnut St., the Downtown Public Library of Cincinnati and Hamilton County, the Contemporary Arts Center on Sixth St., the Center at 600 Vine, and the Hyatt Regency on West 5th St.
The exhibit is free to check out but visitors are encouraged to donate a canned good or non-perishable item as the cost of "admission." In addition to these donations, all of the food used in the sculptures will go to the Freestore Foodbank at the close of the exhibit.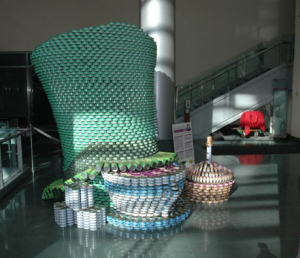 Since the local competition began in 1997, Cincinnati's "architects of food" have donated more than 540,000 pounds of food to the Freestore Foodbank, enough to provide 450,000 meals to our neighbors in need.
You can learn more about Canstruction and about The Freestore Foodbank by LIKING the Freestore's Facebook page and following their updates.
Photos of past Canstruction sculptures courtesy of the FreestoreFoodbank.