It should come as no surprise that great communities like ours don't happen by accident.  They have leadership teams working from a plan that is rooted in the community's desires.
Here in Northern Kentucky there is a long history of community visioning. Our current strategic plan goes until the end of 2014, and so it is time to begin focusing on developing the vision that will guide Northern Kentucky from 2015 through 2020.
This is where Family Friendly Cincinnati readers and their friends, families, co-workers and neighbors come in.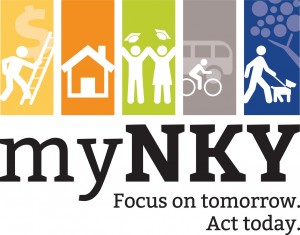 This month the organization Vision 2015 launched myNKY, a six-month campaign designed to engage the Northern Kentucky community in determining the priorities for the region's next five-year strategic plan.
Share Your Voice w/ myNKY Community Visioning Campaign
They want all of us to get involved and doing so is easy. The myNKY website, www.mynky.org, will serve as the primary avenue for collecting input. There you can play a fun interactive prioritization game where they give you $1 million virtual dollars to invest in the community and you can give input by participating in rotating polls and challenge questions on topics like education, transportation, etc. all designed to find out what's important to you.
Here at Family Friendly Cincinnati we are all about making this region as amazing as possible for our families and our children. We are thrilled to have been asked by myNKY to act as official ambassadors for the campaign. As ambassadors we'll be periodically posting here on FFC.com about different topics important to our community and about opportunities for our NKY readers to get involved and share their thoughts and opinions.  We'll also be talking about it on Facebook and Twitter from time to time.
Share Your Voice

Campaign organizers really want to hear from as many people as possible and as such, have created a presence on several social media sites in addition to their website.
You can also find them and share your thoughts with them at:
Twitter: @my_nky
Facebook: www.facebook.com/itsmynky
Instagram: www.instagram.com/my_nky 
Youtube channel: www.youtube.com/user/itsmynky